The grant program is open to faculty, students, and research scientists of Georgia Tech. Grants can be used to support the development of new hardware or new applications; fund the design and evaluation of new wearable technologies; or create new opportunities for internal or external collaboration, such as through workshops or speaker series. Our hope is that the engagement grant will help inspire a sense of collaboration, and will help aid in the creations of projects showcasing wearable technology's potential.
2014 Grant Awardees 
 
 Pehn Pehn Pixels: Interactive LED Vests for Motorcycle Taxis in Monrovia, Liberia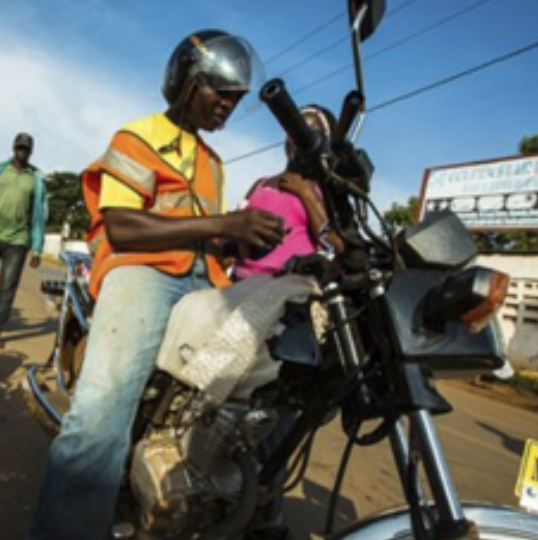 Zane Cochran - HumanCentered Computing Ph.D. Student 
Harrison Daniels - HumanComputer Interaction & Industrial Design Master's Student 
James Hallam – Industrial Design Ph.D. Student 
Emily Keen – Industrial Design Master's Student 
Ian Wilson – Human-Computer Interaction MS Student 
Jim Budd – Chair & Professor, School of Industrial Design, Georgia Tech 

NaturalMotion: Intuitive Gesture Control and Visualization of Time Evolving Graphs
Samuel Clarke – CS Junior 
Nathan Dass – CS Freshman 
Duen Horng (Polo) Chau – Assistant Professor, School of Computational Science & Engineering
Wearable Computing in the Wild















Andrew Quitmeyer – Digital Media Ph.D. 
Jennette Yen – Biology Professor / Director of Center for Biologically Inspired Design 
Matthew Swarts – Researcher, College Of Architecture 
Paul Clifton – Digital Media Ph.D.
Smart Ballet Shoe: Transforming Adult Ballet Learning with Wearable Tech













Emily Keen – Industrial Design Master's Student 
Jim Budd – Chair & Professor, School of Industrial Design, Georgia Tech
Onscent























Joelle Alcaidinho – MSHCI Masters 
Giancarlo Valentine – ECE Ph.D. 
Melody Jackson –  Associate Professor HCC
Multisensory Mirror Therapy Gloves: Custom Fit Interactive Gloves to Enhance Rehabilitation Exercises

















James Hallam – Industrial Design Ph.D. Student 
Jim Budd – Chair & Professor, School of Industrial Design, Georgia Tech
Human Body Mediated Communication 

Cheng Zhang – School of Interactive Computing, CS PhD 
Gregory D. Abowd – School of Interactive Computing - Distinguished Professor 
Omer T. Inan – School of Electrical and Computer Engineering, Assistant Professor 
Jim Budd – Chair & Professor, School of Industrial Design, Georgia Tech