Research Centers and Joint Programs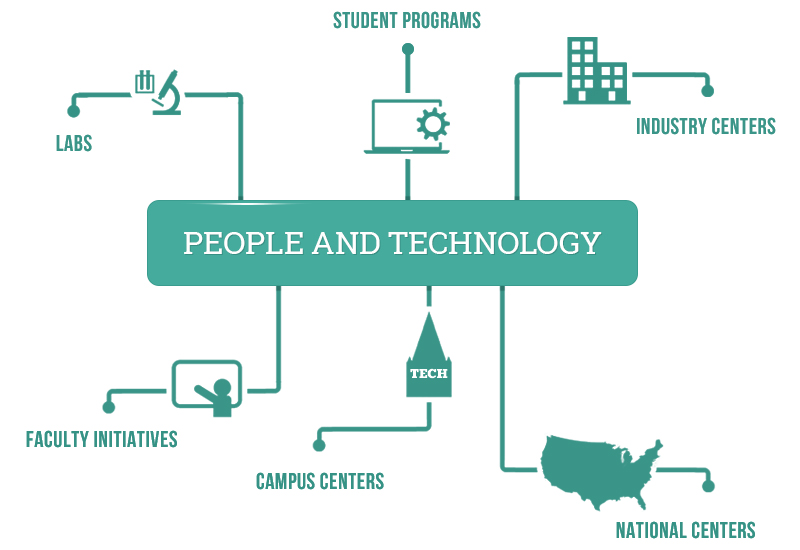 The Center for Assistive Technology and Environmental Access (CATEA) is a multidisciplinary research and development center dedicated to promoting the health, activity, and participation of people with all levels of ability through the application of assistive and universally designed technologies that enhance the usability, equitability, and safety of real-world products, environments, and devices.
As an Interdisciplinary Research Center (IRC) at Georgia Tech, the Center for Health & Humanitarian Systems (CHHS) aims to transform health and humanitarian systems through education, outreach, and innovative solutions.
The Center for the Development and Application of Internet of Things Technologies (CDAIT) fosters the development of interdisciplinary Internet of Things (IoT) research and education that bridges sponsors with Georgia Tech researchers and faculty as well as industry members who share similar interests.
The Center for Urban Innovation (CUI) supports research that thinks globally, acts locally, and encourages researchers, students, and civic leaders to find innovative, interdisciplinary approaches to shaping sustainable cities.
The Georgia Tech Research Institute (GTRI) is the non-profit applied research arm of Georgia Tech and is involved in approximately $205 million in research annually for more than 200 clients in industry and government. GTRI's research spans a variety of disciplines, including national defense, homeland security, public health, education, mobile and wireless technologies, and economic development.
GVU is an interdisciplinary research center that brings together people and expertise from all six Georgia Tech colleges in order to solve complex problems. GVU's goal is to make the world a better place through fundamental and applied interdisciplinary computing research.
The Health Analytics group at Georgia Tech conducts research and mentors students in data science methodologies to improve decision-making in health care delivery and public health.
As an Interdisciplinary Research Center (IRC) at Georgia Tech, the Center for Health & Humanitarian Systems (CHHS) aims to transform health and humanitarian systems through education, outreach, and innovative solutions.
The Interactive Media Technology Center (IMTC) is a research, design, and development center focusing on technology, education, culture, and health. IMTC's mission is to enable ambitious research around campus and amplify the impact of IPaT by: supporting large interdisciplinary projects, performing engineering & project management at scale, participating with academic faculty as research collaborators, bolstering tech transfer, and providing sustainability to ongoing projects.
The Georgia Tech Research Network Operations Center (GT-RNOC) accelerates innovation in networking, computing, sensing, mobility, and convergence by enabling communities of collaboration. Through partnerships with industry and community partners, GT-RNOC provides and maintains a unique end-to-end infrastructure within an operational setting, giving access to world-class students, researchers, and innovators from various disciplines across Georgia Tech's research and academic units.
The Wearable Computing Center (WCC) is an academic research center that also serves as industry research and development. The WCC set of activities includes the design of custom hardware and sensing techniques, pattern recognition/machine learning, application design and development, user-centered design, industrial/fashion design, user studies and large scale experiments, and public policy/participation in standards bodies and regulatory activities.
Run by students, the App Lab in Technology Square Research Building 333 is where students (of all majors and levels of expertise) can work, learn, and find collaborators within the community or Georgia Tech's many industry partners.
The Aware Home Research Initiative (AHRI) at Georgia Institute of Technology is an interdisciplinary research endeavor aimed at addressing the fundamental technical, design and social challenges for people in a home setting. Central to this research is the Aware Home, a 3-story, 5040 square foot facility designed to facilitate research while providing an authentic home environment.
The Child Study Lab studies early social, communication, and play behavior in children, including those who are experiencing problems in their development. The lab brings together computer science and psychology to build new tools to measure behavior, with the goal of improving early screening for autism and other developmental delays.
The Georgia Tech Digital Building Laboratory's (DBL) purpose is to develop a strong research and development link between the building industry and the building research-related capabilities of Georgia Tech to improve the innovation cycle. The DBL was formed to respond to the current and future challenges within the design and construction industry: new Information Technologies, new methods of project delivery, new approaches to eliminate waste and make construction "lean", new energy and sustainability challenges.
The Healthcare Robotics Lab research seeks to advance the capabilities of real robots so that they can provide valued assistance to people in unstructured environments. Projects involve research into human-robot interaction, autonomous mobile manipulation, machine perception, machine learning, and haptics.
HomeLab is a statewide network of adults 50 years of age and older recruited to evaluate the in-home usability and effectiveness of consumer products designed for the aging adult population.
PPL is a group of researchers, students, and community members working to define Digital Civics. The lab is focused on integrating design, technology, and public engagement to create the cities and communities we want to inhabit.
The SimTigrate Design Lab is an interdisciplinary research effort dedicated to driving healthcare innovation through the integration of evidence-based design and simulation. The SimTigrate team seeks to transform healthcare, predict and optimize outcomes and decrease cost.
The Digital Humanities Lab brings together students and faculty to explore issues of epistemology through the creation of software tools to support new forms of scholarship, and digital projects prompted by new forms of research.
Georgia Tech's initiative on Smart Cities and Inclusive Innovation develops innovative approaches to shaping resilient and sustainable communities. Through research and development, strategic partnerships, and cutting-edge programming the initiative brings Georgia Tech's interdisciplinary expertise in technology and policy to the development of smart cities and communities.
Georgia Tech's SPRINT program has access to a wealth of Georgia Tech resources. Georgia Tech conducts a wide range of research within the schools and colleges on campus.
The Convergence Innovation Competition (CIC) is a semester-long event dedicated to helping students create innovative and viable products and experiences with the support of campus resources and industry guidance.
Developing novel computational methods for measuring and analyzing the behavior of children and adults during face-to-face social interactions.
The Wireless RERC (Rehabilitation Engineering Research Center) is a recognized leader on issues and solutions related to the accessibility and usability of mobile wireless products and services by people with disabilities.