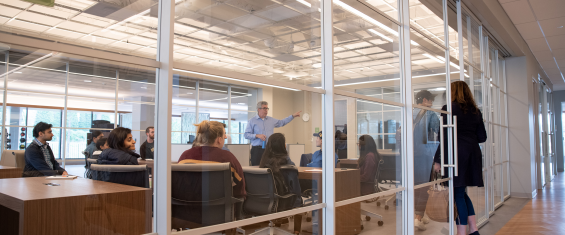 2022 Cognitive Empowerment Program's Innovation Accelerator
2022 Cognitive Empowerment Program's Innovation Accelerator - Call for Pre-Proposals
Deadline: August 13, 2021, by 5 pm
You are cordially invited to submit seed grant pre-proposals to the Cognitive Empowerment Program. The vision of the Cognitive Empowerment Program (CEP) is to revolutionize the experience of people affected by Mild Cognitive Impairment (MCI) by creating a comprehensive approach that can be replicated nationally and internationally. With the aim of speeding up the development, testing, and dissemination of evidence-based interventions for MCI, the Innovation Accelerator (IA) core is offering seed grants to support research in the following areas: therapeutic programming, technology, and the built environment. 
The funded projects should result in innovative solutions, strategies, or methodologies developed through a culture of collaboration among students, researchers, clinicians, and people with MCI in less than 12 months' time. Proposals can range from a semester to year-long research projects and smaller proposals can target funds to convene valuable discussions, gather data, develop methods and metrics, or to prototype new designs and technologies. See the attached call for a pre-proposals document for more information on how to apply. All pre-proposals will be evaluated by a review committee comprised of representatives from all cores of the CEP as well as individuals affected by MCI. Those selected for full proposals will be contacted by the end of the day on September 10. 
Lastly, there will be an info session on July 16 at 11:00 am. The purpose of the session is to provide an update about the CEP, inform you about our research interests, and answer any questions that you may have about the CEP or the seed grant process. You can access the info session at https://primetime.bluejeans.com/a2m/live-event/wtyyyxzp. For additional information or questions regarding the seed grant process email Kimberly Bass Seaton at kseaton7@gatech.edu.
 
Looking forward to reading your pre-proposals,
Jennifer DuBose, Director
CEP's Innovation Accelerator
Link to apply for the pre-proposal via a Qualtrics form: https://gatech.co1.qualtrics.com/jfe/form/SV_4VgDAeXQq83QPBQ
Attached is a copy of the application (PDF) so that you can review it ahead of time before entering into the Qualtrics form.