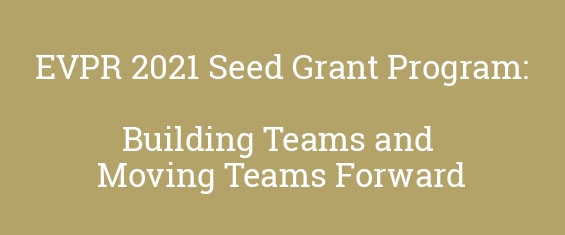 2021 Seed Grant Program – Building Teams and Moving Teams Forward - DETAILS
Deadlines
April 30, 2021; October 15, 2021; March 19, 2022
Access the program solicitation and/or apply using this link: https://gatech.infoready4.com/#competitionDetail/1839268
Informational Slide Deck

https://gatech.infoready4.com/PlatformServicesV2/documents/viewDocument/competitiondetails.pdf?documentName=tmp_numbered_5bd4de26-1dc2-49c4-a524-9531ead47db4&applicationId=7
Description
There are two opportunities in this call – one focused on team building and another focused on moving teams forward. There will be approximately $750K of combined funding for each call, with due dates of April 30, 2021; October 15, 2021; and March 19, 2022.
An informational webinar about this program was held on Wednesday, April 14, 2021. Here is a link to a recording of the session. The slides for this session are also available on the lower right side of this page.
Eligibility
Any member of the residential instruction (i.e. non-GTRI) faculty who is eligible to serve as a PI on a sponsored project proposal is eligible to submit. GTRI faculty may serve as co-PIs or personnel on proposals. A faculty member may only serve as PI on one proposal. There is no limitation on serving as key personnel or co-PI.
Support and Budget Details
It is expected that awards funds will be administered by the academic unit of the PI. The funding for this initiative is state funds. Budgets should be limited to expenses that are allowable on state funds and charged as appropriate to state funds. Funding can support faculty/staff/student effort, travel, and ancillary materials and supplies needed to support team forming efforts. Limited funding may be available to fund events and event support that cannot be paid from state funds should be listed as a separate budget item.
Teams for this effort may be asked to interview with a committee consisting of research leadership, faculty, and personnel from the Office of Research Proposal Development. The intent of this interview is to provide feedback on the application based on GT's collective experience with supporting such efforts and suggest possible linkages to programs and efforts at GT that could be part of the proposed effort. Awarded teams will be asked to meet periodically with the EVPR office for an update on their progress or participate with a cohort of teams on common programming.
Deadlines
April 30, 2021; October 15, 2021; March 19, 2022
FORMING TEAMS and ESTABLISHING COLLABORATIVE EXPERTISE
Purpose
Many efforts at seeding teams assume a team already exists. The 2020 Seed Grant program had two successful public events focused on identifying partners and we would like to build on expanding such activities. Team formation takes time and effort beyond these introductory activities, and often a PI with an idea needs time to find the right combination of people and bring them together. Funding under this initiative supports building these partnerships, including:
Ground-up road-mapping efforts. A core group of researchers exists. There is no specific RFP in mind, but a recognition of local strength and an untapped sense of opportunity based not only on our strengths but national trends and a survey of the competitive landscape. The deliverable is a white paper identifying the opportunity for Georgia Tech, a summary of our strengths and weaknesses in this domain, a study of the opportunities that exist nationally or internationally in terms of funding and being recognized as a thought leader or fast-starter, and an analysis of the competitive landscape. Opportunities to link to the Research Next and Georgia Tech strategic plans should be highlighted as those plans evolve.
Building teams around a nascent research idea with one or more core members established. A potential future opportunity has been identified but no immediate RFP deadline is targeted in the next six months (e.g. targeting a future NSF STC or ERC cycle, NSF NRT program, or NIH T32 training grant). The team seeks to identify additional talent needed to be competitive, "try people out," and participate in team-building and team formation activities.
Application
Proposals should be limited to a two-page PDF file that describes the opportunity, explain the need for funding, and specify a list of 6-month goals. Examples include producing a white paper, writing a perspective for publication, responding to an RFI or otherwise influencing policy or funding agency priorities, mapping out the domains and partners needed to pursue a project or funding opportunity, participating in team science or other workshops, activities for "test driving" the new team, and other activities focused on building a team and building team skills. The proposal should identify the next steps to be taken after team formation. The budget should identify activities, personnel, travel, services, and M&S to be supported.
Budget
$10K-$50K.
---
MOVING TEAMS FORWARD
Purpose
This effort is focused on teams that are targeting a specific RFP or have already submitted at least once to a large center or research project. Examples of such efforts within STEM disciplines are efforts such as EFRCs, ERCs, STCs, and NSF/DoD institutes, but we recognize this may vary by discipline. We also encourage ideas that may lead to graduate student training grants such as an NRT or T32. Often these efforts built exciting new partnerships and require funding for efforts to respond to future proposals opportunities. This opportunity is intended to keep the team momentum going, supporting personnel effort including unit support, travel, project management, red teams, and external reviews, community assessment workshops, and prototypes to enable the next proposal for a team with momentum. This proposal should address building partnerships with experts outside the technical focus that are often necessary to be competitive differentiators in winning center and larger research project proposals. These topics include education and outreach, diversity and inclusion, assessment, broader impacts, pilot projects, social implications of the research, economic impact, and workforce development.
Application
Proposals should be limited to a three-page PDF file that describes the future opportunities and past efforts of the team, explain the need for funding, and specify a list of 12-month goals. The applicants should identify the opportunity they are planning to compete for (RFP, anticipated deadline if not released) and a list highlighting the needs to be addressed to move their team forward and the deliverables of this proposal (e.g., a submitted proposal, a proof-of-concept demo to sponsor). The applicant should indicate key personnel involved with the team and additional personnel sought.
Budget
$50K-$100K.