Chris Luettgen, Ph.D.
Director
Industry Strategic Partnerships, GT Professional Education
Professional Masters in Manufacturing Leadership
Professor of the Practice
Chemical and Biomolecular Engineering, College of Engineering
Director
GT Pulp and Paper Engineering
Undergraduate Certificate Program and Foundation
Dr. Chris Luettgen
Chris Luettgen, Ph.D., has 25 plus years of industry experience, with Scott Paper and Kimberly-Clark Corp., where he most recently served as senior research and engineering manager for the Kimberly-Clark Professional business sector. He has held positions in product development and innovation as well as in capital project management and manufacturing facility leadership.
For several years, Luettgen has served on the Georgia Tech Renewable Bioproducts Institute (RBI) Industry Board of Advisors, and he is the current Chairman of the Board of the Technical Association of the Pulp & Paper Industry. He earned his bachelor's degree in Paper Engineering at Western Michigan University ('85), his master's degree at the Institute of Paper Chemistry, Appleton, WI ('87), and his Ph.D. at the Institute of Paper Science and Technology - now the Renewable Bioproducts Institute at Georgia Tech ('91).
He rejoined Georgia Tech in November 2014 as a Professor of the Practice in the School of Chemical and Biomolecular Engineering, and Associate Director of Pulp and Paper at RBI. He also serves as Director of Industry Strategic Partnerships in the Georgia Tech Professional Education Division.
Areas of interest include: recycled fiber, renewable cellulosic feedstocks, tissue manufacturing and converting and manufacturing leadership/operations excellence.
Academic and Leadership Support: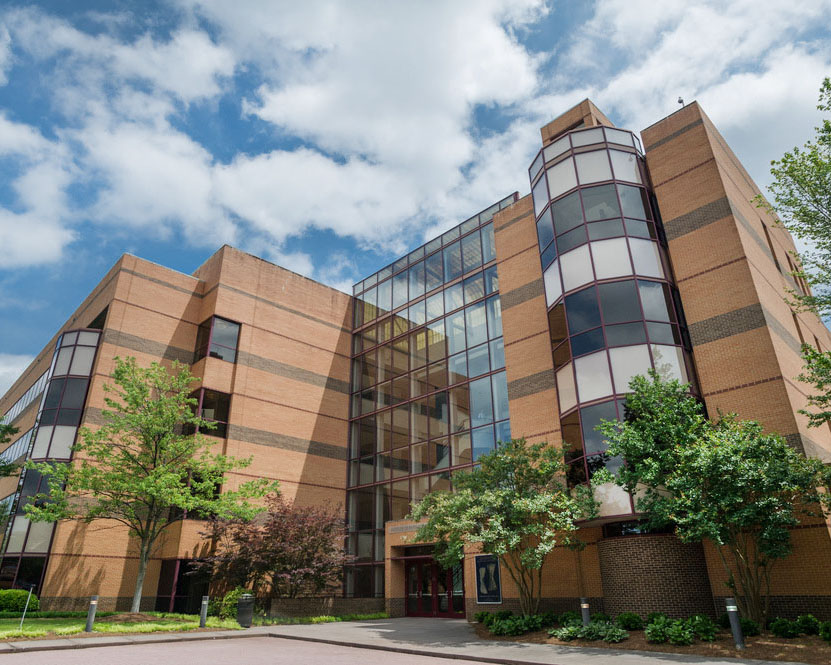 Renewable Bioproducts Institute
The Renewable Bioproducts Institute at Georgia Tech builds on nearly a century of lignocellulosics research to advance business opportunities based on renewable resources for today and tomorrow.
Learn more >>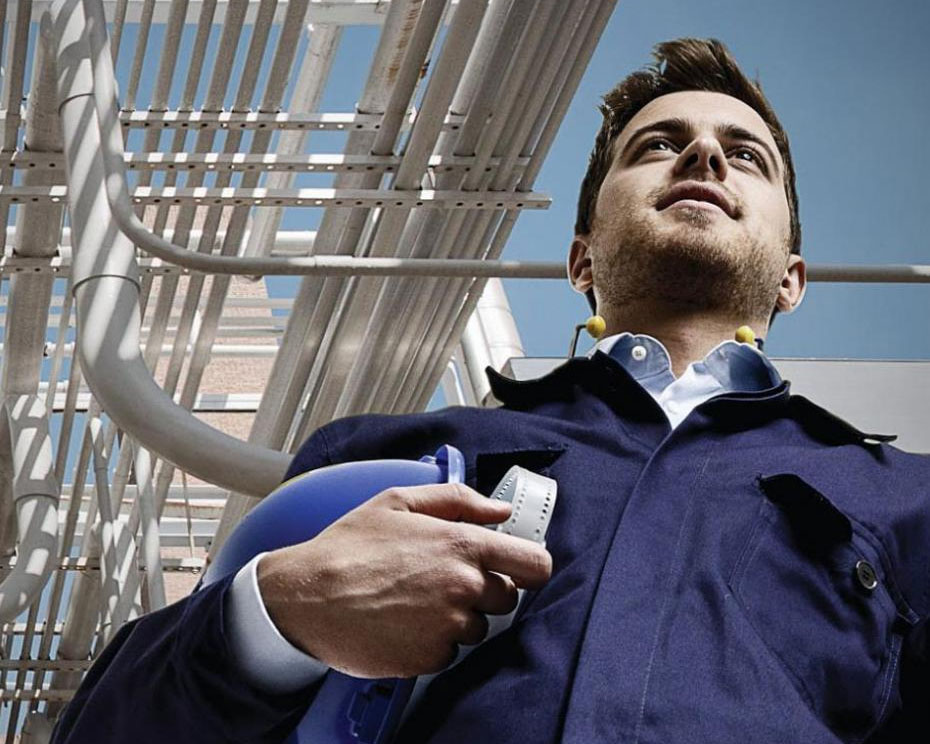 Professional Master's in Manufacturing Leadership
This is an advanced degree that equips the next generation of operations leaders and facility managers with enriching experiences in teamwork, leadership, decision-making, and professional skills development, as well as exposure to leading-edge technology.
Learn more >>
School of Chemical and Biomolecular Engineering
School of Chemical and Biomolecular Engineering is to provide students with the intellectual basis to be educated citizens, to prepare them for successful professional careers, and to advance the science and technology that form the basis of chemical and biomolecular engineering.
Learn more >>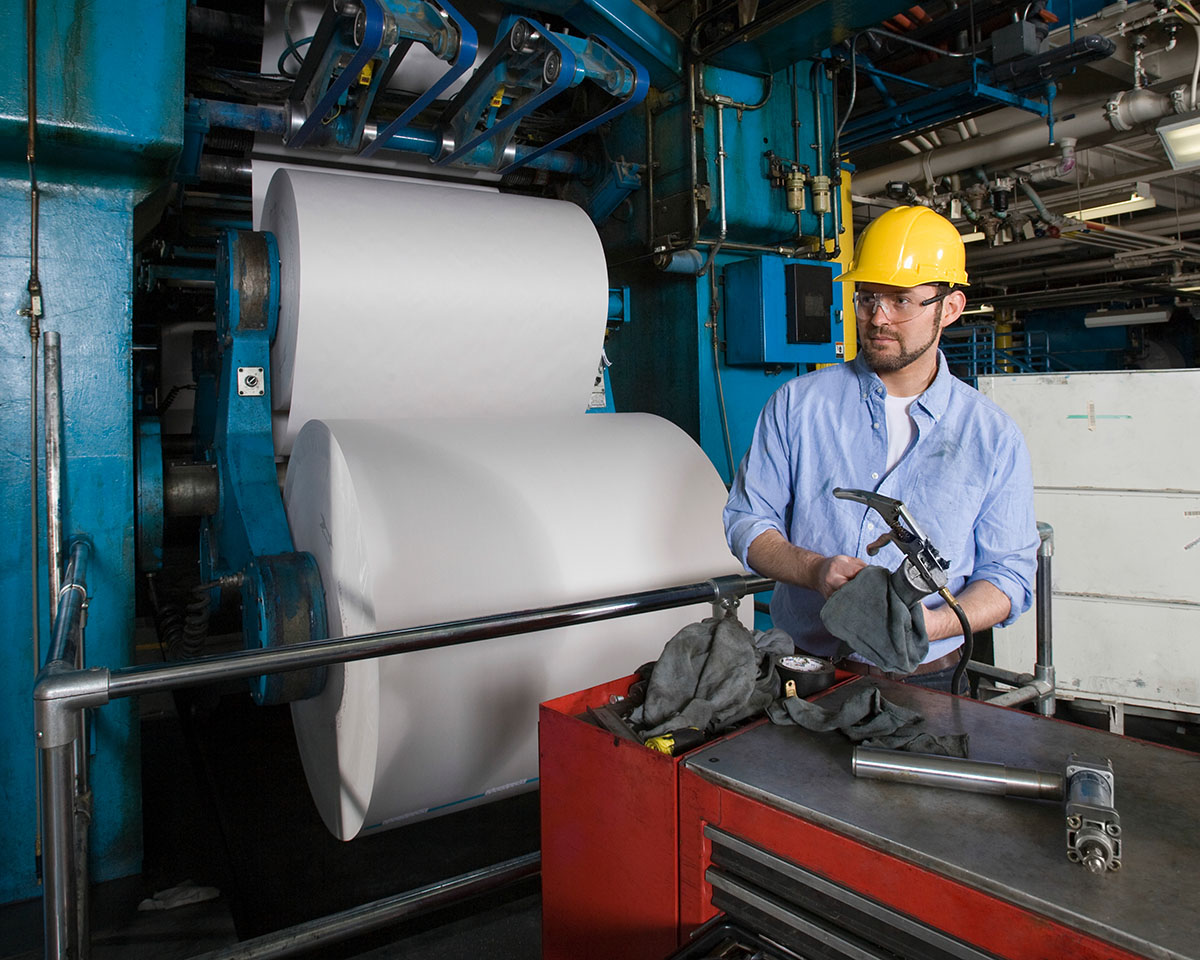 Pulp and Paper Certificate Program
The program develops future leaders of the paper and forest products industry.  By completing 12 credit hours, a student currently enrolled in the Schools of ChBE, ME, MSE or Chem can obtain a certificate demonstrating their proficiency in pulp and paper science and engineering.
Learn more >>
Contact Dr. Chris Luettgen:
Phone:   404.894.6908
Cell:        770.231.7088
FAX:        404.894.4778
Email:     Chris.Luettgen@rbi.gatech.edu

Package deliveries:
Georgia Institute of Technology
500 Tenth Street, NW
Atlanta, GA

If using the United States Postal Service, use ZIP code 30332-0620
If using a courier such as UPS, Federal Express, etc., use 30318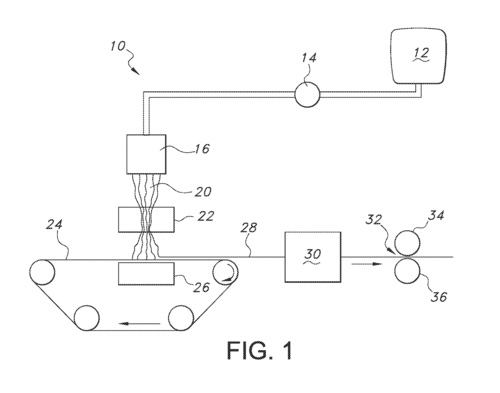 Filaments Comprising Microfibrillar Cellulose, Fibrous Nonwoven Webs and Process for Making the Same (Application number: 20140121622)
Abstract: Disclosed herein is a cellulosic textile filament made from microfibrillar cellulose fibers and a thickening agent as well as the precursor dope for forming such filaments, nonwoven webs made from such cellulosic textile filaments and the process for forming such filaments and nonwoven webs including such filaments. One of the advantages of these filaments is the eco-sensitive way in which they are made as they utilize a water-based dope that does not require any chemical solvents unlike other processes such as those used to make Lyocell fibers. In addition, the process does not involve any washing or extraction steps and it employs a cellulosic fiber source that is broadly based and renewable.
Type: Application
Filed: October 2, 2013
Issued: May 1, 2014
Assignee: Kimberly-Clark Worldwide, Inc.
Inventors: David M. Jackson, Christopher O. Luettgen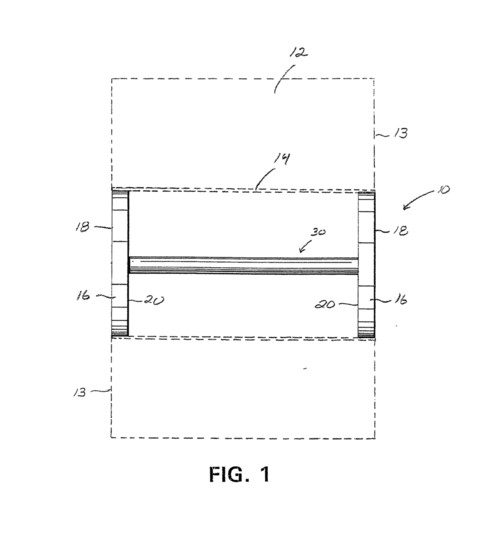 Adapter to Convert a Hollow Core Roll Product for Dispensing from a Coreless Roll Dispenser (Application number: 20020074450)
Abstract: An adapter assembly for mounting a paper roll product having a central hollow cylindrical core in a coreless roll dispenser includes side plates having a shape and size so as to frictionally engage with the hollow core of the paper roll product. The outer face of the side plates is substantially flush with the respective sides of the paper roll product. A female recess is defined in the outer face of the side plates at a location corresponding to the rotational axis of the plates and paper roll product. The female recess has a shape and size so as to be engaged by male protrusions of the coreless roll dispenser. At least one longitudinally extending connecting member may be disposed between the inner faces of the side plates within the hollow core of the paper roll product.
Type: Application
Filed: December 19, 2000
Issued: June 20, 2002
Inventors: Paul F. Tramontina, Christopher O. Luettgen, Dena L. Friderich, Stephen L. Phelps, Richard P. Lewis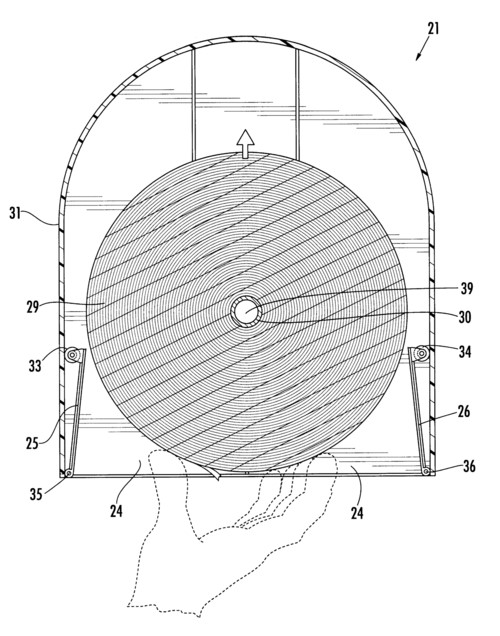 Dispenser Apparatus and Method (Patent number: 6267323)
Abstract: An apparatus and method for dispensing cored or coreless rolled paper is disclosed. The apparatus comprises a housing having a dispensing side from which rolled paper products may be dispensed. A doorway enclosed by one or more doors allows the insertion of a rolled paper product through the doorway to the interior of the housing in a simple and efficient manner. One or more roller guides may be mounted on a door to contact the outer circumferential surface of the rolled paper to support the rolled paper within the housing, and to assist in dispensing the rolled paper from the housing. Cored or coreless rolled paper may be dispensed from the dispenser.
Type: Grant
Filed: March 30, 2000
Issued: July 31, 2001
Assignee: Kimberly-Clark Worldwide, Inc.
Inventors: Stephen L. Phelps, Christopher O. Luettgen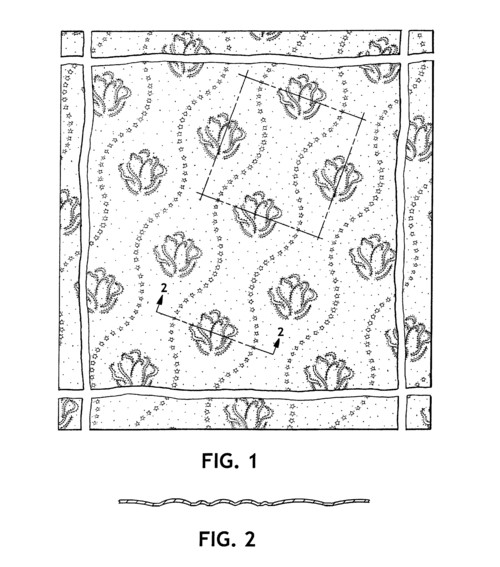 Embossed Flower Absorbent Paper Product (Patent number: D437119)
Type: Grant
Filed: May 14, 1999
Issued: February 6, 2001
Assignee: Kimberly-Clark Worldwide, Inc.
Inventors: Wendy Ann Jahner, Patricia A. Stern, Christopher O. Luettgen
Embossed Rose Absorbent Paper Product (Patent number: D437489)
Type: Grant
Filed: May 14, 1999
Issued: February 13, 2001
Assignee: Kimberly-Clark Worldwide, Inc.
Inventors: Wendy Ann Jahner, Patricia A. Stern, Christopher O. Luettgen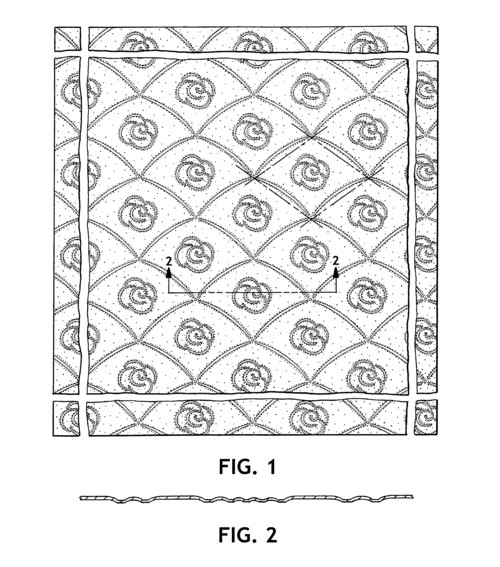 Embossed Powder-puff Absorbent Paper Product (Patent number: D437120)
Type: Grant
Filed: May 14, 1999
Issued: February 6, 2001
Assignee: Kimberly-Clark Worldwide, Inc.
Inventors: Wendy Ann Jahner, Patricia A. Stern, Christopher O. Luettgen