2021 Blue Sky Young Researchers and Innovation Award
Udita Ringania, a Ph.D. candidate funded by the RBI, won the 2021 Blue Sky Young Researchers and Innovation Award. The award is given by the American Forest & Paper Association (AF&PA) and the International Council of Forest and Paper Associations (ICFPA). 
Decarbonizing the Pulp, Paper and Biorefining Industries: Towards Carbon Neutrality
Attendees will learn about cutting-edge developments in life cycle assessment, carbon capture, and energy intensity reduction specifically relevant to the pulp, paper, and biomass processing industries. Free to attend, May 19-20.
Blank Space (Medium)
(text and background only visible when logged in)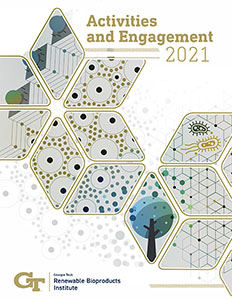 Activities and Engagement Report for 2021
RBI's Activities and Engagement Report covering the 2021 calendar year shows impactful research publications, workshops, and supported Ph.D. fellows. There are links in the table of contents to the publications, and title pages of each paper published through RBI. 
News
This summer, a faculty and student group from the Renewable Bioproducts Institute (RBI) at Georgia Tech attended TAPPI's International Conference on…
Georgia is a place where people know how to make things. Consider that the parts holding rockets together as they blast into space are made in Dodge…
Abstract: Although cellulose nanomaterials have promising properties and performance in a wide application space, one hinderance to their wide scale…
Events
Georgia Tech will be closed on July 4 in observance of Independence Day.
The Georgia Tech campus will be closed in observance of Labor Day.