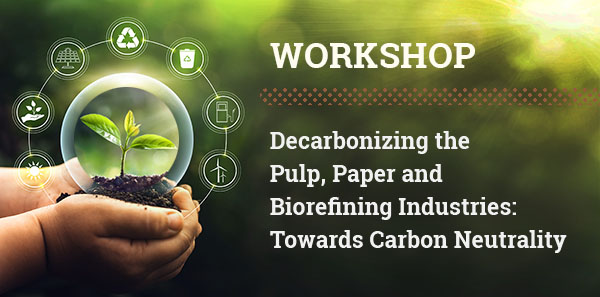 Join the Renewable Bioproducts Institute for a one-and-a-half-day in-person workshop entitled "Decarbonizing the Pulp, Paper and Biorefining Industries: Towards Carbon Neutrality." Attendees will learn about cutting-edge developments in life cycle assessment, carbon capture, and energy intensity reduction specifically relevant to the pulp, paper, and biomass processing industries. Agenda below.

The workshop was held
Thursday, May 19, 2022, 7:30 AM – 5:30 PM EDT  (Banquet dinner at 6:30 PM)
Fri, May 20, 2022, 8:00 AM - 12:30 PM EDT
at the Georgia Tech Research Institute conference center 250 14th Street NW, Atlanta, GA 30318-9108
This unique workshop featured speakers from:
National Renewable Energy Laboratory (NREL)
Lawrence Livermore National Laboratory (LLNL)
WestRock
LanzaTech
Georgia Tech (GT)
North Carolina State University (NCSU)
American Forest Foundation
Department of Energy Bioenergy Technologies Office
Attendees were invited to a graduate student research poster session on Thursday, May 19 from 4:30-5:30 PM; and an evening dinner with guest speaker at 6:30 PM after the poster session. Dinner limited to 60 guests on first-served dinner registrations.
 
Speaker slides available:
Cyrus Aidun, "Next Generation Paper Machine Multiphase (Mp) Forming To Reduce Energy Consumption"
Nathan Ellebracht, "Approaches to Decarbonization and CO2 Removal in Biorefining"
Victor Breedveld, "Solving Rewet to Produce Drier Web"
---
Workshop co-sponsored by:
The Ray C. Anderson Center for Sustainable Business, hosted by the Scheller College of Business, was founded in 2013 to act as a catalyst and connector, bringing together students, research faculty, companies, and entrepreneurs to create an environment where business-driven solutions to sustainability challenges can take shape and thrive. 

The Ray C. Anderson Center for Sustainable Business sponsors the Georgia Business Compact, a business-focused initiative representative of Georgia's diverse economy, fueled by stakeholder engagement pursuing innovative solutions to achieve net-zero greenhouse gas emissions by 2050 and address "beyond carbon" sustainability elements of equity, economic opportunity, community health, and environmental quality.
Agenda
May 19, 2022
Decarbonizing Pulp and Paper
 7:30  Continental Breakfast
 
 8:15  Welcome
 
 8:30  Arjun Durr, American Forest Foundation
Lynn Riley, American Forest Foundation
Creating a high quality carbon credit – the journey of utilizing reforestation and forestland management for the carbon supply chain
 9:15  Alice Favero, GT
Carbon Economy of Forests
10:00  Break
 
10:15  Rajiv Banavali, West Rock
Decarbonizing the Pulp and Paper Industries: WestRock View
11:00  Valerie Thomas, GT
Advances in LCA for Pulp, Paper and Bioproducts
11:45  Lunch (boxed)
 
 1:00  Sunkyu Park, NCSU
Carbon capture potential in the US pulp and paper industry
 1:45  Cyrus Aidun, GT
Multiphase Forming to Reduce Energy Consumption
 2:15  Victor Breedveld, GT
Solving Rewet to Produce Drier Web
 2:45  Break
 
Decarbonizing Biorefining
| | |
| --- | --- |
|  3:00  Reyhaneh Shenassa, BETO | Decarbonization Initiatives at BETO |
|  3:45  Steve Brown, Lanzatech | Biorefining Decarbonization Perspectives |
|  4:30  Poster Session Pulp, Paper, & Biorefining |   |
|  5:30  Conclude |   |
|  6:30  Banquet Dinner & Speaker | Ira G. Pearl, Vice President of Environmental Sustainability, Cox Enterprises |

May 20, 2022
Decarbonizing Biorefining
| | |
| --- | --- |
|  8:00 Continental Breakfast |   |
|  8:30  Pamela Peralta-Yahya, GT | Synthetic Biology in Biorefining |
|  9:15  Matthew Realff, GT | Carbon Capture Technologies |
| 10:00  Break |   |
| 10:15  Randy Cortright, NREL | Decarbonization at NREL |
| 11:00  Nathan Ellebracht, LLNL | Approaches to decarbonization and CO2 removal in biorefining: carbon capture, electrification, and offset economics |
| 11:45  Emanuele Massetti, GT, IMF | Economic Assessment Models |
| 12:30  Conclude and Boxed Lunches to go |   |
Banquet Presenter
Ira G. Pearl, Vice President of Environmental Sustainability, Cox Enterprises
Ira G. Pearl serves as the vice president of environmental sustainability at Cox Enterprises and is the leader of Cox Conserves. In this role, he leads Cox's efforts to tackle sustainability challenges while driving its goals to achieve zero waste to landfill by 2024 and become water and carbon neutral by 2034.
Pearl has more than 25 years of experience and has spent his career developing and executing sustainable strategies in the areas of renewable energy, climate change, and environmental remediation. Prior to joining Cox, Pearl served in executive roles at Montauk Energy, AGL Resources and Delta Air Lines.
Pearl has served on numerous boards during his career including the Georgia Conservancy, Southface Energy Institute, Atlanta Botanical Garden, and the Georgia Air & Waste Management Association
Pearl holds a bachelor's degree in chemical engineering from the Georgia Institute of Technology and completed post-graduate work in nuclear engineering as a US Navy submarine officer.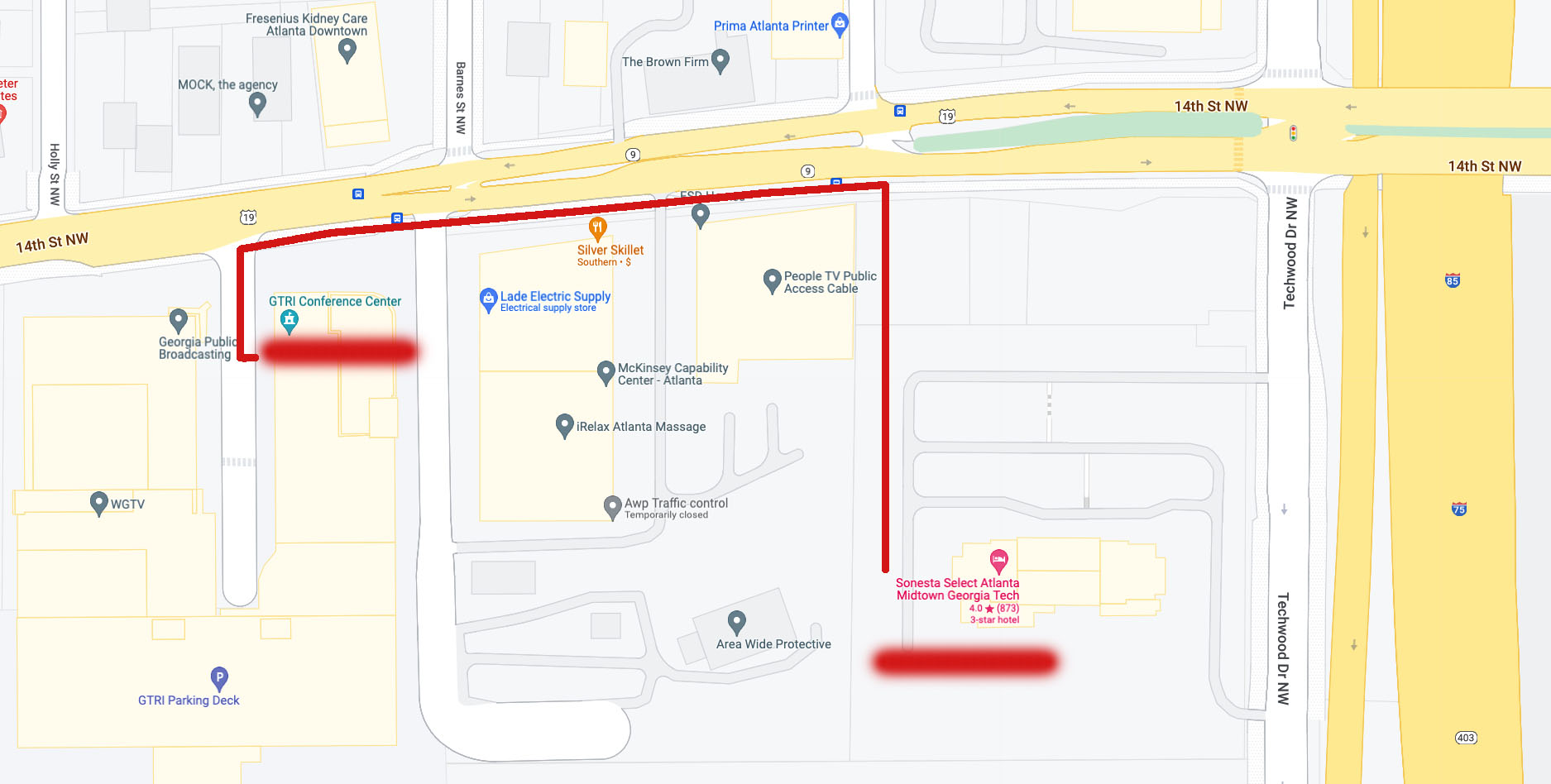 Map of Hotel and GTRI Conference Center