IBB Event Space Reservation Request Instructions 
Event Spaces in Petit Biotech Building
Suddath Seminar Room 1128 
Standard setup: 80 chairs, three food tables in back, two rows of tables in front of room. 
Max capacity: 100 chairs (theater style seating with no tables).
Laser projector connected to PC in podium. Available HDMI/VGA connections for laptops. Two lapel and four handheld mics that can be used simultaneously. Only Zoom is supported for video conference at this time.  
Suddath Courtyard 
150 sq. feet of outdoor space (adjacent to Suddath Seminar Room and atrium), includes four round, 36" tables with four chairs each. 
Atrium 
Contact IBB event staff for space usage and setup options at connect@ibb.gatech.edu.  
The Atrium shares AV with the Suddath Seminar room. The Seminar room audio can be transmitted to the atrium including sound from PC and microphones. Video conferencing from the atrium is limited at this time. The PC in the room or wall connector in atrium can be connected to LCD projector mounted in atrium.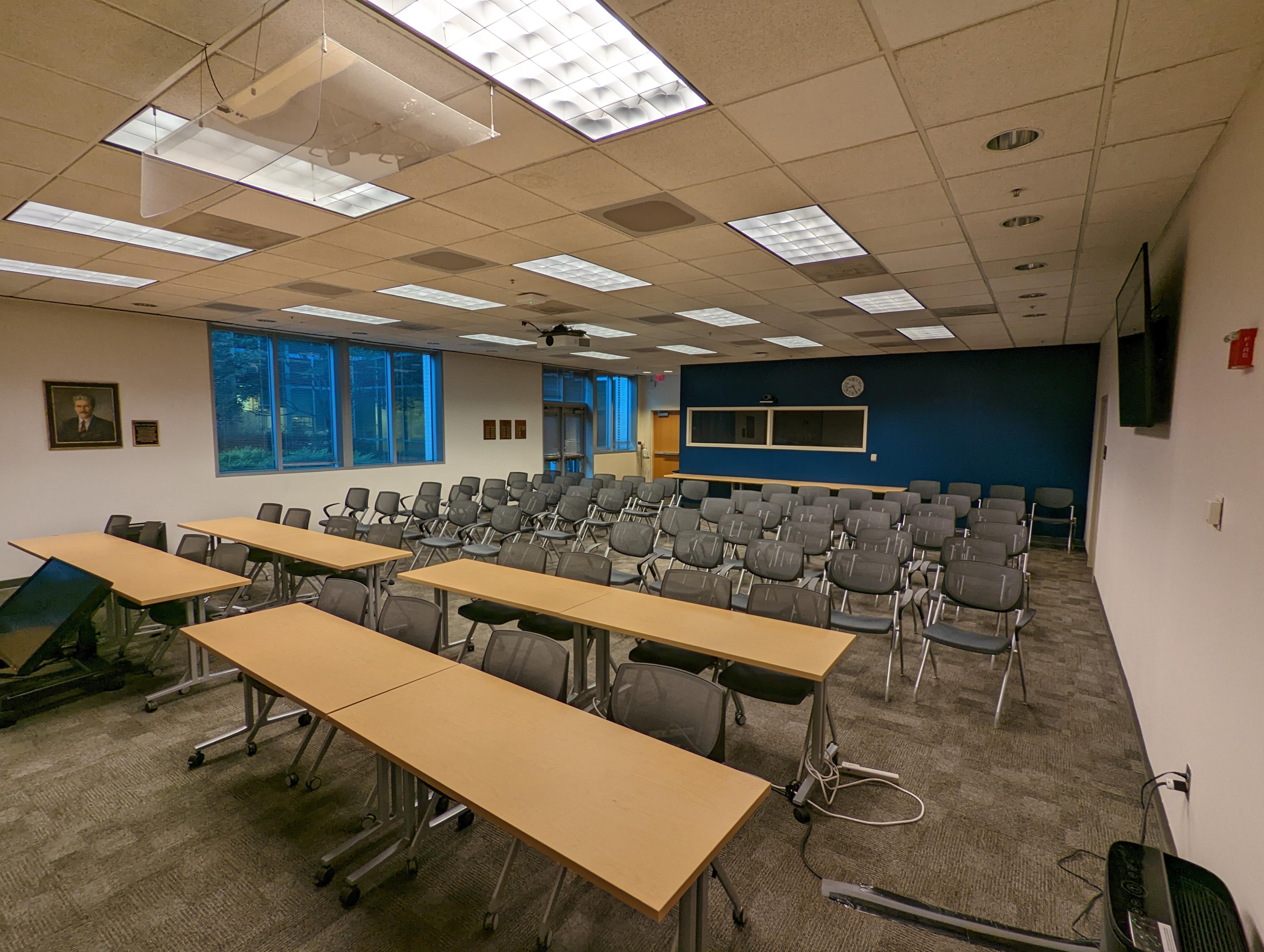 Event Space Reservations
Event space requests are considered tentative until reviewed and approved by the IBB event staff. 
IBB events receive priority for these spaces and all other requests are reviewed based on availability and association with bioengineering and bioscience. 
IBB strives to be eco-conscious. Using compostable serving ware for catering orders is preferred and helium-filled balloons are not permitted in the building due to the global helium shortage.
All events that take place in IBB spaces must follow GT event guidelines and policies: 
Reservation Instructions
Click the below link to "Request IBB Event Space", then click on "login in" at the top right of the screen, and login using your GTID credentials. If not logged in, users will receive an error message when saving a reservation request.
Use the center drop-down box to view all spaces or individually selected areas. 
Click on the desired event start time on the requested date to open the event request form. Be sure to include time needed for set-up and clean-up of your event. 
To select multiple event spaces at once within the form, hold down the Ctrl or Command key and highlight the desired spaces. 
Complete all fields in the form and select "save." 
Event requests are considered tentative (and will show as "Awaiting Approval" on the event calendar) until reviewed by IBB event staff. Event staff will respond to requests within two business days. 
If confirmed, IBB event staff will follow up with additional instructions and update the reservation as "confirmed" in the calendar. 
If you have questions, please contact connect@ibb.gatech.edu.