HELP
Didn't find what you are looking for? We'd like to help!
 
GT Community Inquiries
Contact: Office of EVPR Team
All Other Inquiries
Contact: Georgia Parmelee, Director of Research Communications
 
Using Advanced 3D Printing, Undergrad Designs Adjustable Golf Putter
Jul 12, 2021 — Atlanta, GA
This custom-designed stainless steel golf putter features continuous adjustment of toe hang and a unique attachment system for custom face inserts to adjust the club's loft. Biomedical engineering student Caroline Means designed the putter as part of an undergraduate research project with Jud Ready. The project's goal is to allow golfers to adjust parts of their club to find a better stroke, rather than having to buy a new club. It was created using an advanced metal-depositing 3D printer in Georgia Tec
For many golfers, pros and weekend warriors alike, their trusty old putter can be like a reliable friend — comfortable, predictable, solid.  The thought of changing it? Well, let's not even go there.
Yet, an undergraduate in the Wallace H. Coulter Department of Biomedical Engineering at Georgia Tech and Emory University has been working on a project that could make it easier to experiment with putter characteristics. The project's goal is to allow golfers to adjust parts of their club to find a better stroke, rather than having to buy a new club. It also could help equipment manufacturers reimagine their prototyping and design process.
For the last year and a half, Caroline Means has been designing a putter using an advanced metal-depositing 3D printer that is usually used to make aircraft parts. Working with Jud Ready, principal research engineer at the Georgia Tech Research Institute, the idea was to be able to adjust the putter's key characteristics, toe hang and loft, and explore new kinds of face materials.
"We wanted to design a club that was able to be customized to a golfer in those three areas without having to get a new club or go to a professional and have them bend your club, and without significantly and permanently altering the structure or composition of the club," said Means, a fourth-year student who has pursued the idea as part of a President's Undergraduate Research Award at Tech. "There hasn't been as much innovation in the area of putter heads, and so, we decided to take on that challenge."
The team's prototype putter is made from stainless steel (eventually they'll explore a multi-material composition), with an innovative shaft attachment method that allows for continuous adjustment of the toe hang. Its face inserts are made of either metal or a polymer created by Carbon, a California-based 3D-printing company. The inserts come in a variety of angles to adjust the club's loft. They can be combined or stacked and easily removed via a unique attachment system Means and Ready created.
"The 3D printing in collaboration with mechanical engineering associate professor Chris Saldana gives us an advantage to create structures that could not be machined through traditional methods," Means said. "That means that after it's been manufactured, a golfer can pick what face surface material they want for the putter. They can decide how many degrees of loft is best for the green conditions that day. As their swing changes and improves, they are able to adjust the toe hang of the golf club."
Perhaps it's worth pausing for a quick putter primer: Toe hang is a measure of the center of gravity of the putter, which affects how the clubhead moves during a stroke. The idea is to hit the ball with the putter's face squared up, but every golfer's stroke is different, and most rotate the face during their swing. Changing the toe hang can help the putter and the golfer's swing work together for improved directional control of the ball.
Loft is the angle of the putter face when it rests on the green — usually just a degree or two. Too little loft, and the ball is pushed into the green when the putter hits it, slowing it down; too much, and the ball may hop at contact instead of rolling. All of that affects whether the ball reaches its intended target: the bottom of the cup.
To create their patent-pending design, Means and Ready contacted the golf pros at Atlanta's historic Bobby Jones Golf Course. They also enlisted a pretty famous Georgia Tech alumnus who knows a thing or two about golf clubs.
"I come from a unique perspective on things like product development and innovation," said Stewart Cink, a former Tech golfer and eight-time winner on the PGA Tour, including two wins in 2021. "I've got the on-course experience and knowledge, and I've been through a lot of product innovation with companies that I've worked with in the past. Jud had no way of knowing that it would be something that I would like really like, but this is part of my job that I really enjoy doing."
After many months of design and a nearly day-long printing operation with the help of Saldana's graduate students Elliott Jost and Jaime Berez in Tech's Advanced Manufacturing Pilot Facility, Cink and his son Reagan tested the putter this summer at Bobby Jones Golf Course. The Cinks were hooked up to a system that collects mountains of data to help the pros at the course teach golfers about their stroke and where they can improve.
Cink said the adjustable putter could help golfers explore new putter configurations that might help their game without breaking the bond they have with their club.
"One of the biggest challenges with the pros and their putters is how to go from something that's really cozy and warm and comfortable to something that has a little bit different specs," Cink said. "What their putter does is, it gives you the chance to take the old baby and change a little bit about it at a time. If you decide you want to go back to the other way, just change it back."
So how does a biomedical engineering student end up elbows-deep in golf putter design?
Means met Ready when she took two of his courses, including Materials Science and Engineering of Sports.
"Caroline was a stand-out student," said Ready, who also leads innovation initiatives at the Georgia Tech Institute for Materials. "She asked great questions, got good grades, had wonderful oral presentation and organizational skills — so I offered her a job after the semester was over."
In the class, Ready's class visited Georgia Tech's Advanced Manufacturing Pilot Facility, where they learned about Saldana's 3D printer that uses metal powder and lasers to build metal objects. Before long, Ready and Means were thinking about golf clubs and how they might be able to innovate while exploring the potential of the machine.
"My background in biomedical engineering really came in strong. We spend a lot a lot of time focused on learning how to put users at the center of the design process," Means said. "I talked to professionals at Bobby Jones Golf Course to learn what makes a person come back to a putter. Our team wanted to know what kind of things they have to account for when they're fitting a club to someone, and how we can make this something that is unique and that people will want to use."
This spring, Means and Ready were joined by Brittan Pero, a second-year student in mechanical engineering and an avid golfer who played for Oglethorpe University before transferring to Georgia Tech. He's been helping with the testing, and he has secured his own President's Undergraduate Research Award to continue the project.
"I've always wanted to design golf clubs, and I saw that Dr. Ready taught a class on engineering of sports equipment, so I figured I'd email him see if there was an internship or maybe undergrad research somewhere in the field," Pero said. "It turned out that he had the exact field that I wanted to be in — putter design — which is crazy."
While Pero works on refining the putter head to get it closer to a market-ready design, Means is off doing an internship this summer in pursuit of a career in medical device design. She said she hopes their testing data will show the idea is viable and they can create a small startup or even use some of their collaborators' connections to club-makers to interest them in the concepts.
"Caroline will be back in the fall, and I expect the two of them to make even greater advancements as a team," Ready said. "I can't wait for Caroline's patent to get fully prosecuted, and for Britt to file his own."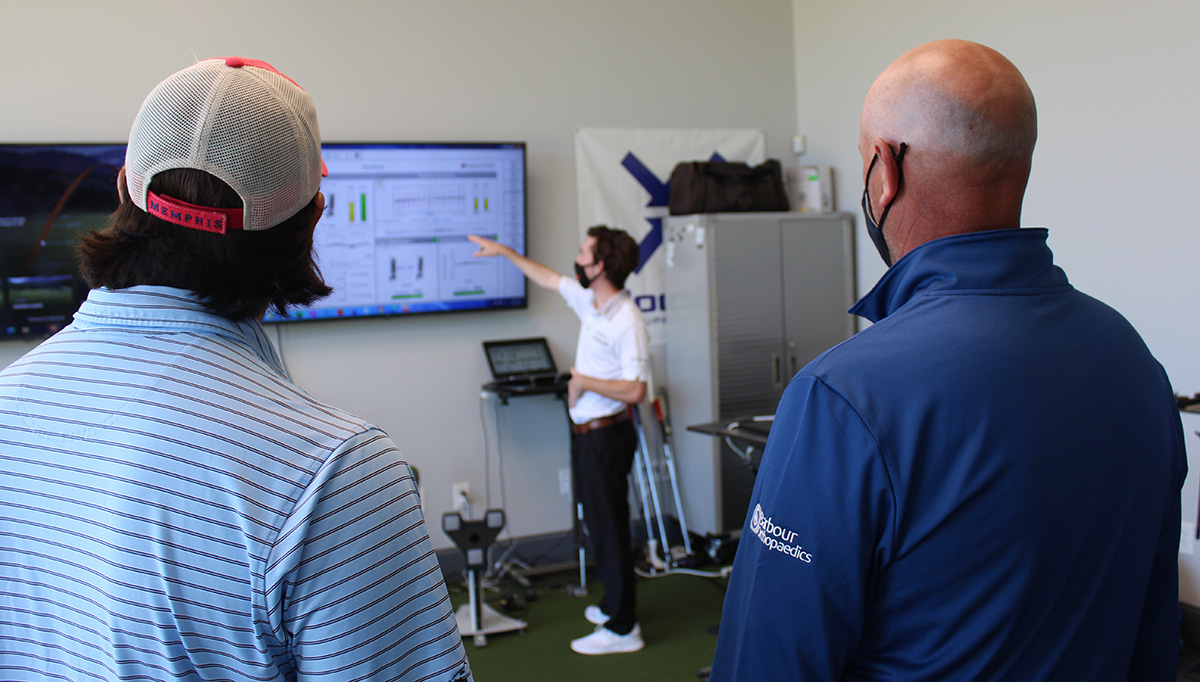 Second-year mechanical engineering student Brittan Pero talks through some of the data collected during tests of a 3D-printed putter with Tech alumni Reagan Cink, left, and his father, Stewart, a PGA Tour pro golfer. Pero joined the project this summer to help with testing and build on the design created by biomedical engineering student Caroline Means. (Photo: Joshua Stewart)
From left, Georgia Tech alumnus Reagan Cink, undergraduate researchers Caroline Means and Brittan Pero, and pro golfer and Tech alumnus Stewart Cink at Bobby Jones Golf Course in Atlanta. The Cinks helped test a 3D-printed putter Means designed with Tech researcher Jud Ready. The elder Cink helped consult on the design, along with the pros at Bobby Jones Golf Course. (Photo: Candler Hobbs)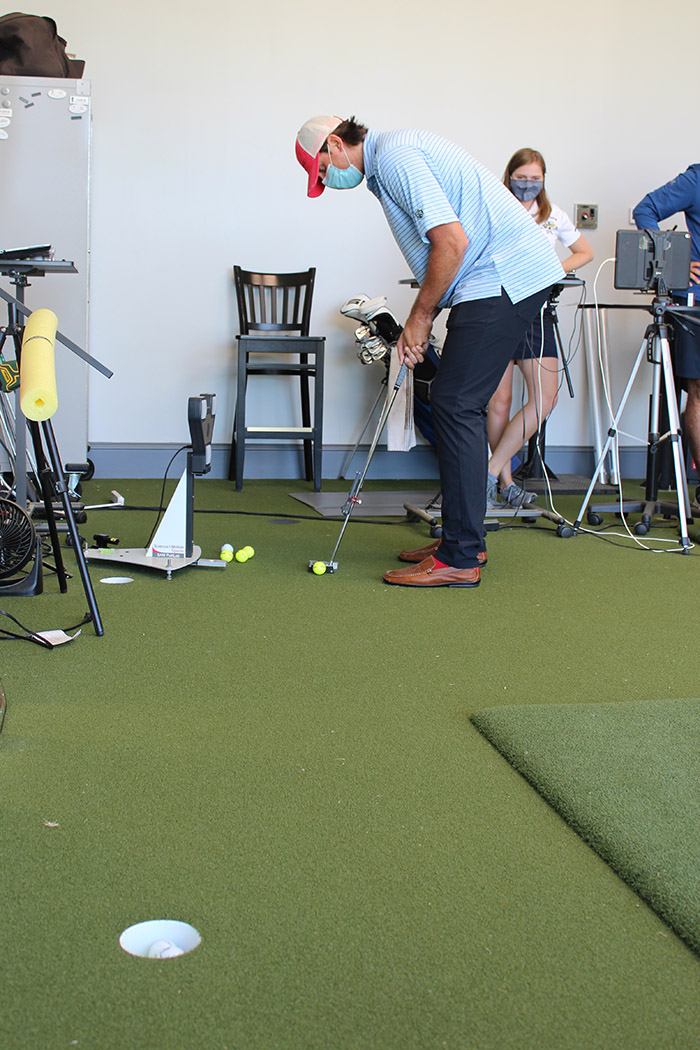 Reagan Cink takes a few test putts at the Bobby Jones Golf Course Bandy Instructional Center using a 3D-printed putter designed by undergraduate Caroline Means (just behind Cink). Cink graduated from Georgia Tech in 2020 and has been caddying for his dad, Stewart, a PGA Tour golf pro and fellow Tech alumnus. (Photo: Joshua Stewart)
Contact
Communications
Wallace H. Coulter Department of Biomedical Engineering
Email
jstewart@gatech.edu