Georgia Tech ranks as a top research university in the U.S. 

In fiscal year 2023, the Institute achieved a milestone of $1.45 billion in new research awards. These funds fuel our mission to address the world's most pressing challenges in computing, engineering, design, the sciences, liberal arts, and business.
Our research enterprise supports collaboration across disciplines to bridge the knowledge and discovery gap and build the foundation for novel research.
Enterprise Innovation Institute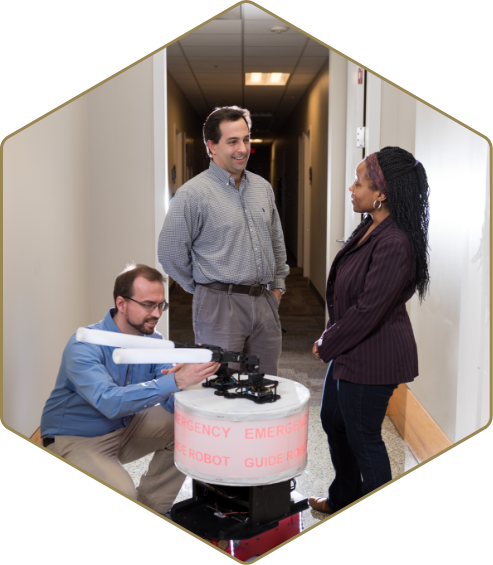 The Enterprise Innovation Institute is Georgia Tech's economic development arm, comprised of more than a dozen programs. It's the largest and most comprehensive university-based program of its kind in the United States. Its core focus areas include entrepreneurship and startup development, business and industry growth, ecosystem development, and international outreach.  
 
Georgia Tech Research Institute (GTRI)
The Georgia Tech Research Institute (GTRI) takes on the biggest applied research problems and turns them into practical solutions for government and industry. More than 2,400 employees across eight laboratories in over 20 U.S. locations support innovation in:
Analysis, modeling and simulation, systems engineering, and technology development
Cybersecurity, information, communication, command and control, and software systems
Electromagnetics, materials, and device technology
Sensors, weapons, electronic warfare, and autonomous systems
Test and evaluation
Threat systems research and development
Interdisciplinary Research Institutes
Interdisciplinary Research Institutes bring together researchers from different disciplines to address topics of strategic importance to Georgia Tech. Each IRI mobilizes faculty to address the needs of external stakeholders (federal, state, and local entities, corporations, foundations, and communities) by fostering an Institute-wide innovation ecosystem around a specific focus. IRIs translate research into particular outcomes such as technology transfer, education, and outreach.
Commercialization
Georgia has emerged as a hub for technology and startup innovation, and Georgia Tech is proud to be a crucial part of this evolution. The Georgia Tech ecosystem attracts more than $100 million in industry research each year. A major component is our ATDC incubator, which supports Georgia-based technology startups from the idea phase through launch and scale. Georgia Tech's mission is to offer world-class commercialization services for faculty, staff, and students to catalyze research and innovation that matters and improves the human condition.  
Corporate Engagement
More often, corporations are investing time and money into universities. It's a highly competitive and selective process that requires the expertise of people who understand both the corporate and academic worlds. The Georgia Tech Office of Corporate Engagement helps faculty navigate a corporate environment and build relationships with these partners. 
The Corporate Relations team connects you with resources to enhance your research initiatives, such as grants or sponsorships for a project, program, or event.
Pediatric Technology Center (PTC)
The smallest patients have different bodies, biochemistries, and medical needs from adults. The Children's Healthcare of Atlanta Pediatric Technology Center puts children first by developing medical devices and tools, nanotechnologies, regenerative medicine, diagnostics and imaging, and other solutions specifically designed for pediatric patients.
Global Center for Medical Innovation (GCMI)
The Global Center for Medical Innovation's mission is to accelerate the development, testing, training, and commercialization of innovative medical products that improve quality-based outcomes and healthcare delivery for patients.
Novelis Innovation Hub
The Novelis Innovation Hub at Georgia Tech serves as the focal point for enterprise-level collaboration between Novelis and the Institute, connecting Novelis' technical and business innovators with Georgia Tech students and faculty. Established in August 2019, the innovation hub initiates basic and applied research collaboration in areas of strategic interest to Novelis and provides faculty, student, and educational program support. 
Center for Advanced Brain Imaging (CABI)
The Center for Advanced Brain Imaging (CABI) is a joint venture between the Georgia Institute of Technology and Georgia State University. The state-of-the-art facility is focused on examining brain activity, human behavior, and cognition.