2019 Georgia Tech Sustainability Showcase
We filmed the entire event. Find all the presentations on our YouTube channel in this playlist.
At the Showcase, about 150 academic and research faculty shared their work in sustainability research and education. Talks are in a fast-paced lightning format covering topics that span the engineering, natural science, social science, business, planning, design, and computing disciplines. From buildings to transportation, finance to logistics, climate to energy, cities to farms, manufacturers to workers, and profit to equity – find out what is going on right now at one of the world's preeminent research and teaching universities.
The Sustainability Showcase took place over three full-days, subdivided into si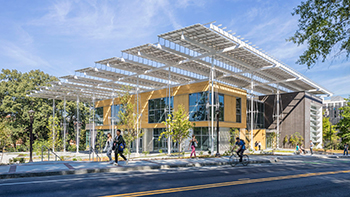 x half-day sessions. It was held in the Kendeda Building for Innovative Sustainable Design on October 28th through the 30th, 2019.
We have compiled a playlist of some of the videos from the Showcase that are particularly relevant to the United Nations Sustainable Development Goals. The description box for each of the videos lists the UN SDG goals that are discussed. You may view that playlist on the BBISS YouTube Channel by following this link. We have also a PDF document which lists these videos along with their associated SDGs.
Our Sponsors
Monday Morning October 28 9:00AM
People: Health, Wealth, Wellbeing, Equity, Ethics, Socioeconomics, Behavior, Culture, Education, Metrics
Monday Afternoon October 28 1:00PM
Keynote 1:00-1:30PM: Intergenerational Change (John Lanier, Executive Director, Ray C. Anderson Foundation)
Organizations and Institutions: Governance, Decision Making, Planning, Regulation, Investment, Markets
Keynote 4:30-5:00PM: Reflections on Sustainability at Georgia Tech (G. Wayne Clough, President Emeritus of Georgia Tech and former Secretary of the Smithsonian Institution)
Tuesday Morning October 29 9:00AM
Natural Systems: Atmosphere, Oceans, Water, Biodiversity, Climate, Weather, Natural Resources
Tuesday Afternoon October 29 1:00PM
Built Systems: Cities, Transportation, Power & Energy, Water, Data & Communications, Food & Agriculture, Buildings, Landscape
Wednesday Morning October 30 9:00AM
Technologies: Manufacturing, Construction, Design, Engineering, Computing, Operations, Logistics
Wednesday Afternoon October 30 1:00PM
Future Vision
Keynote 4:30-5:00PM: Big Sustainability (John Brock, Former Chairman and Chief Executive Officer of Coca-Cola Enterprises Inc.)