BBISS Graduate Fellows Program
The second class of Brook Byers Institute for Sustainable Systems (BBISS) Graduate Fellows has been selected. The BBISS Graduate Fellows Program provides graduate students with enhanced training in sustainability, team science, and leadership in addition to their usual programs of study. Each 2-year fellowship is funded by a generous gift from Brook and Shawn Byers and is additionally guided by a Faculty Advisory Board. The students apply their skills and talents, working directly with their peers, faculty, and external partners on long-term, large team, sustainability relevant projects. They are also afforded opportunities to organize and host seminar series, develop their professional networks, publish papers, draft proposals, and develop additional skills critical to their professional success and future careers leading research teams.

The Faculty Advisory Board for the BBISS Graduate Fellows is composed of the faculty who submitted the students' nominations. Nominations for Class III of the BBISS Graduate Fellows program will open in the Spring 2023. It is expected that 6 to 8 scholars will be selected for next year's group. The Faculty Advisory Board for Class II are:
Class II of the Brook Byers Institute for Sustainable Systems Graduate Fellows are: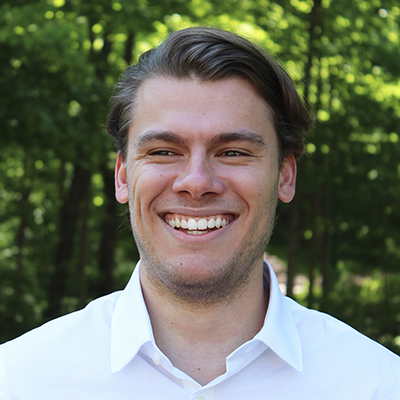 Oliver Chapman
Oliver Chapman is a Ph.D. candidate in the School of Public Policy in the Ivan Allen College of Liberal Arts. Oliver's research focuses on how local socio-economic conditions influence sustainable lifestyles and how policies and programs can encourage sustainable decision making with special attention to their impact on equity. Currently, he is utilizing survey data to better understand why energy efficient heat pump technology is underutilized in the marketplace. For the past two years, he has been working with Drawdown Georgia in an interdisciplinary team across multiple universities researching and performing analyses on a range of carbon drawdown solutions for Georgia's energy sector with emphases on their potential for economic growth, social well-being, and impact on equity. Oliver received the School of Public Policy Outstanding Masters student award in 2021. He also served two terms as a Graduate Senator in the Georgia Tech Graduate Student Government.
Oliver holds a Master of Science in Public Policy Analysis from the Georgia Institute of Technology in, and Bachelor of Arts in History from the University of Kent in the United Kingdom.
Advisor: Marilyn Brown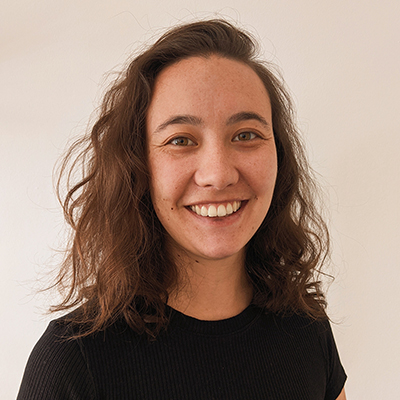 Megan Conville
Megan Conville is a Ph.D. candidate in the School of City and Regional Planning in the College of Design. Her research focuses on the sustainable social development of affordable housing through the lens of the tenant selection process. Megan recently completed an internship in the Department of Community Affairs in the City of Atlanta where she was able to see firsthand how policy and regulation impact low-income households. In her time at Georgia Tech, she has served as both a Graduate Research Assistant and a Graduate Teaching Assistant. She received the Georgia Institute of Technology President's Fellowship for the 2020 – 21 academic year.
Megan received a Master's degree in Global Economic Governance and Policy from the School of Oriental and African Studies, University of London, and a Bachelor's in Business Administration and International Business from Seattle University, where she graduated cum laude.
Advisor: Elora Raymond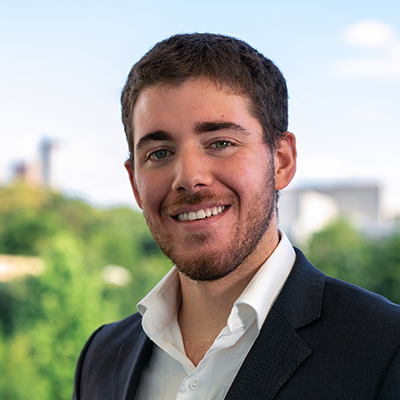 Carlos Fernandez
Carlos Fernandez is a Ph.D. candidate in the George W. Woodruff School of Mechanical Engineering, College of Engineering. His Ph.D. research is to develop bipolar membranes and electrochemical approaches for practical use in the agricultural sector to decarbonize and decentralize the production of ammonia fertilizers. Carlos' master's thesis was published in the Journal of the Electrochemical Society, and chosen as an editor's choice article, and given the Sigma Xi best thesis award. This publication has been downloaded approximately 6,500 times, making it among the most read for the journal. Further, Carlos' contributions to research in electrochemical engineering and materials for carbon capture have advanced these subject areas at Georgia Tech, and in the field in general. He has been recognized for the sustainability impacts of his work by being named a Georgia Tech Institute for Materials Graduate Student Fellow and the Novelis Scholar. Carlos was also awarded a CREATE-X Commercialization Grant in 2021 to advance his work in bipolar membrane technology.
Carlos earned a Master, and Bachelor of Science in Mechanical Engineering, both from Georgia Tech.
Advisor: Marta Hatzell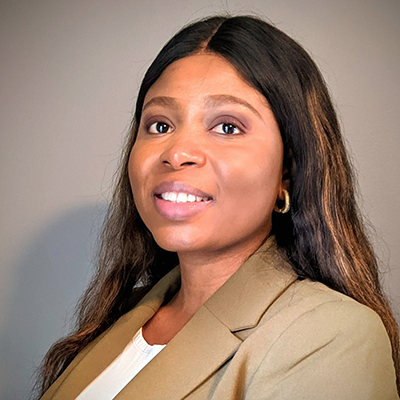 Olianike Olaomo
Olianike Olaomo is a Ph.D. candidate in the School of History and Sociology in the Ivan Allen College of Liberal Arts. Her research interest is in international agriculture and development, emphasizing gender inequalities in agriculture, community development, climate change, and farmers' interactions with living environments. Her focus on the developing world, with particular interest in her home country of Nigeria, has always involved the integration of disciplines such as science, engineering, social science, policy, planning, design, and business.
Olianike's previous research includes assessing the role of rural women in local government relative to the information technology that they are able to access, the impact of the adoption of an E-wallet system on smallholder farmers in Nigeria, as well as building a gender inclusive value chain in the marketing and processing of cassava in Nigeria.
Olianike earned her Master's degree from Auburn University in Rural Sociology, and her Bachelor's degree in Agricultural Extension & Management from the Federal College of Animal Health and Production Technology in Ibadan, Nigeria.
Advisor: Kate Pride Brown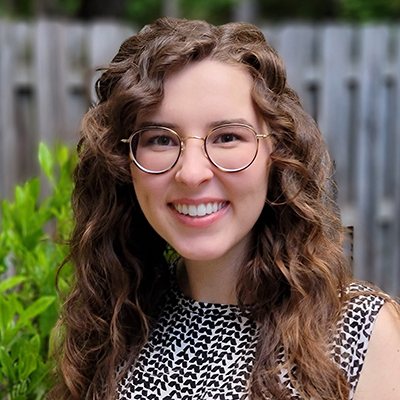 Sarah Roney
Sarah Roney is a Ph.D. candidate in the Ocean Science and Engineering program in the School of Biological Sciences. She studies the chemical communication pathways of marine organisms. Her current project is to investigate reducing the predation of oysters in engineered "living shoreline" systems where they are being established to mitigate waterway erosion due to maritime activities, such as those near the port of Savannah, Georgia.
Sarah makes outreach a priority in her work by developing strong connections with researchers and institutions outside of her program, by incorporating "citizen science" approaches to her research, by mentoring younger students, as well as by engaging with media about her work.
Sarah earned a Bachelor of Science in Biology from Georgia Southern University, where she graduated, Summa Cum Laude.
Advisor: Marc Weissburg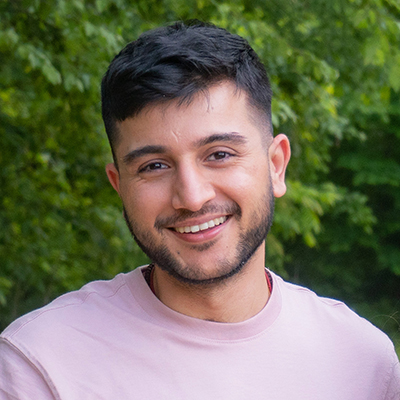 Vishal Sharma
Vishal Sharma is a Ph.D. candidate in the School of Interactive Computing in the College of Computing. His research interest is in taking a human-centered approach towards incorporating sustainability into the burgeoning AI industry. Vishal aims to understand how computing professionals become dissociated from the large, and growing, material and energy resources required for the computing industry, and effective ways to bring ecological constraints into industry best practice.
Vishal's research has been focused on using computing technologies to enlarge the reach of sustainability efforts and organizations, such as how social media can be used in India to help people navigate a water shortage crisis, how volunteer outreach efforts can be expanded for a U.S. based humanitarian aid organization, and how digital workers are able to evaluate the algorithms of the digital platforms that determine their livelihoods.
Vishal earned his Master of Science degree in Information and Computer Science from the University of California, Irvine, and his Bachelor's in Computer Science and Engineering from Chitkara University in India.
Advisor: Neha Kumar