HELP
Didn't find what you are looking for? We'd like to help!
 
GT Community Inquiries
Contact: Office of EVPR Team
All Other Inquiries
Contact: Georgia Parmelee, Director of Research Communications
 
From the Pit to the Factory Floor: A Georgia Tech Alumnus Charts a New Path at Boeing
Jan 05, 2022 — Atlanta, GA
Boeing engineer Toni Cvitanic, Ph.D.
While deciding on career paths as an undergraduate, Boeing engineer Toni Cvitanic sampled courses in biology, chemistry, engineering, and computer science. But it wasn't until joining an intercollegiate car-building competition—where he and other college students worked to design and fabricate formula-style racing cars and competed against other clubs— that his aspirations came into focus.

The son of a mathematics professor, Cvitanic marveled at how his math and science skills could steadily improve a race car's performance. And yet, over time, he realized that the engineering question at hand was not audacious enough. The basic facts of each car—that it would have four wheels, an engine, a suspension—would not change from one model to the next, and any improvement would have to be incremental.

"I realized I wanted to work on new problems that haven't been figured out," he recalled. "Problems where you don't necessarily know the solution or even how one might work."

Instead of following in his father's footstep, Cvitanic set his sights on engineering and began pursuing a Ph.D. in robotics from Georgia Tech.

In 2016, Cvitanic joined the Technology Transition Laboratory (TTL), born out of a longstanding university partnership between Boeing and Georgia Tech. For Cvitanic, joining the TTL meant working on projects with a much higher TRL, or technology readiness level, than most academic research—making the ideas much more likely to become applied on the factory floor at Boeing.

Cvitanic helped lead the TTL's research into dual robotic machining, which could one day be used for automated precision machining and fabrication. The aim was to improve the accuracy of industrial robots—commonly used in automotive manufacturing—so they could meet more stringent aerospace tolerance requirements.

To meet tolerances within five-thousandths of an inch, or slightly wider than a human hair, Cvitanic's team needed a new approach.

Working alongside three Boeing engineers who oversaw the work, they added sensors and a laser tracker to a pair of off-the-shelf Kuka industrial robots. While one robot held an aluminum work piece, the other would begin an assigned machining activity: either milling or drilling holes. As the Georgia Tech team observed the robots, they received real-time performance data and control feedback.

The significant process forces from both kinds of operations caused the arms of the robots to vibrate and flex, which in turn affected the final achievable tolerance of the work. With the data they gathered, the researchers began to model how specific robotic arm configurations, or poses, could counter resisting forces and improve precision. This led to improvements in the robots' arm stiffness, and it also eliminated bending, both vital to offsetting the effects of high-force manufacturing. Ultimately, the team configured the robots to manufacture parts to aerospace tolerances, and they were able to meet the accuracy requirements achieved with machine tools and gantry-style crane systems, which are used in today's manufacturing processes.

The Georgia Tech researchers made enough progress to host a successful live demonstration in front of a Boeing audience. The results furthered the Boeing-Georgia Tech university partnership and led to the creation of the Accurate Robotic Machining (ARM) project and the Boeing Manufacturing Development Center (BMDC) in 2017.  The center gives future students opportunities to work on projects from the concept stage to application.

After earning his doctorate, Cvitanic joined Boeing in October 2021. He parlayed the experience he gained and the relationships he built as a graduate student into a new role. As a manufacturing and simulation engineer based in Charleston, South Carolina, he works in Boeing's Research and Technology organization. He regularly partners with the very engineers who helped guide his project work at Georgia Tech, and together, they explore scenarios in which advanced production systems can be implemented.

"Ultimately, I know I will see the impact of what I'm working on," Cvitanic says of his role at Boeing. "That impact is gratifying." 
MEDIA CONTACTS:
Maks Goldenshteyn 
Boeing Communications 
maksim.g.goldenshteyn@boeing.com

Walter Rich
Georgia Tech Research Communications
walter.rich@research.gatech.edu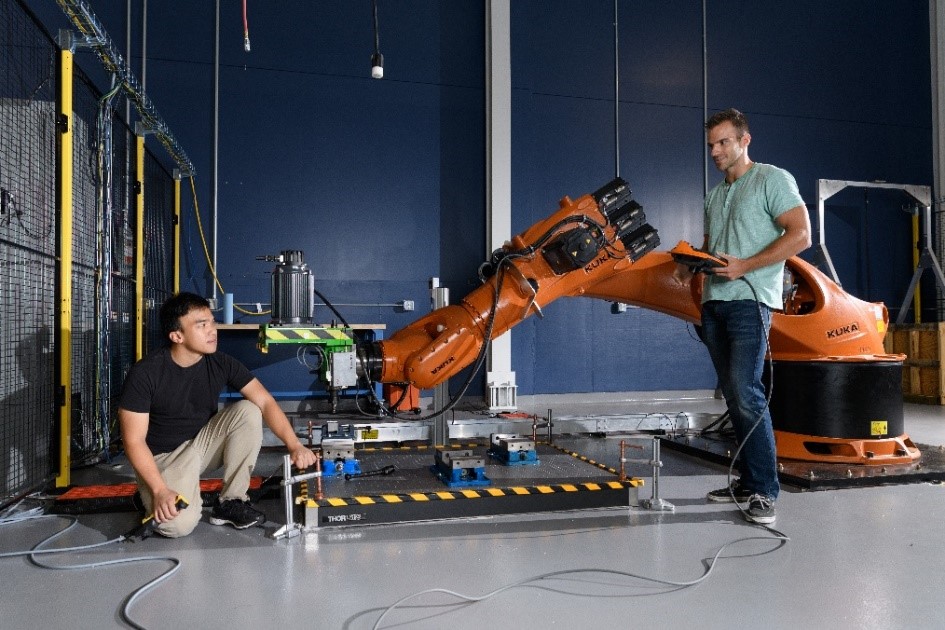 Toni Cvitanic (right) and Vinh Nguyen (left) with Kuka industrial robot
Toni Cvitanic (left) and Vinh Nguyen (right) at Georgia Tech with Boeing executives (far right)
Email
walter.rich@research.gatech.edu