HELP
Didn't find what you are looking for? We'd like to help!
 
GT Community Inquiries
Contact: Office of EVPR Team
All Other Inquiries
Contact: Georgia Parmelee, Director of Research Communications
 
MzCare Team Wins Convergence Innovation Competition and Entry into the CREATE-X Program
Nov 19, 2021 — Atlanta, GA
MzCare Team
Team MzCare won the Fall 2021 Georgia Tech Convergence Innovation Competition (CIC). This annual competition is produced by the Institute of People and Technology (IPaT) in the fall and spring and is open to all undergraduate and graduate students at Georgia Tech to showcase entrepreneurial ideas aligned with IPaT's diverse research focus areas, Georgia Tech's strategic plan, and includes the United Nations' sustainable development goals.
Winning teams received prizes and golden tickets to enter Georgia Tech's distinguished CREATE-X program. Both the CIC and CREATE-X programs seek to help students advance entrepreneurial ideas.
IPaT's CIC supports student innovation, technology transfer, and external partnerships with student projects focused on IPaT's research pillars that include: lifelong health and well-being; shaping the human-technology frontier by augmenting human capabilities; socio-technical systems research leading to new infrastructure technologies that support communities; and smart cities and inclusive innovation to improve daily lives of communities. CIC is supported in part by a long standing partnership with Verizon Wireless. IPaT and GT are appreciative of this support and the growing collaboration with Verizon and hope to continue the same in upcoming years.
The CREATE-X program allow students to receive academic credit that count towards graduation in addition to the valuable knowledge, skills, abilities, and experiences provided by the program to help students confidently pursue entrepreneurial opportunities.
This fall's winning team members are Mannan Bhola, who is pursuing a master of science in bioinformatics, and Tejas Bhuwania, who is pursuing a master of science in computer science. Team MzCare won for their startup idea to provide state of the art ovarian cancer detection, diagnostic, and metabolome profiling kits; establish a non-fungible token (NFT) marketplace for exchanging health data; and incentivize patients to share their data.
As the winning team, Bhola and Bhuwania received a golden ticket for their MzCare project to enter the CREATE-X 2022 summer program. They also received additional prizes for participating in this year's competition.
Team MzCare's diagnostic kit screens for biomarkers to enable early detection for ovarian cancer. Early detection and treatment for ovarian cancer greatly increases successful patient outcomes. Using the collected health data from their screening kits, the team also envisioned a new data-focused marketplace for patient health data and healthcare companies (i.e. pharmaceutical companies) to conduct business using Ethereum blockchain technology.
Team CSMwear was the runner-up in this year's fall 2021 CIC competition. The runner-up team members are Nathan Zavanelli, a doctoral student in the bioengineering program, and Sung Hoon (Josh) Lee, a doctoral student in the School of Electrical and Computer Engineering. Team CSMwear developed a flexible patch that measures chest-surface heart vibrations and uses deep learning to classify cognitive stress in dementia patients.
As runner-up, they received a CREATE-X accelerated application entry allowing them to skip the first two interview rounds and automatically advance to the final round of interviews to possibly enter the summer 2022 CREATE-X program. They also received additional prizes for participating in this year's competition.
The final round judges this year were John Avery, director of the Advanced Technology Development Center (ATDC); Brandon Monteith, director of strategy and finance for Tempus Ex; Burunda Prince, chief operating officer for the Russell Center for Innovation and Entrepreneurship; and Rahul Saxena, interim director for the Create-X program at Georgia Tech. More than 40 judges participated in earlier evaluation rounds.
CSMwear Team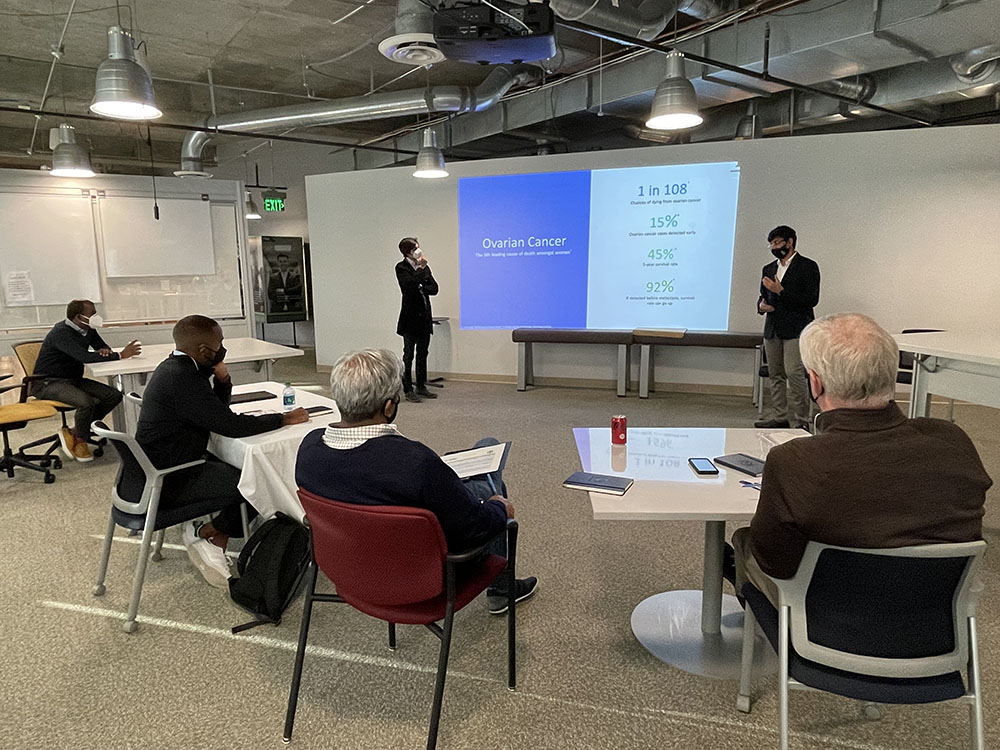 MzCare Team Presenting to Judges
Email
walter.rich@research.gatech.edu