REVAMP REU Program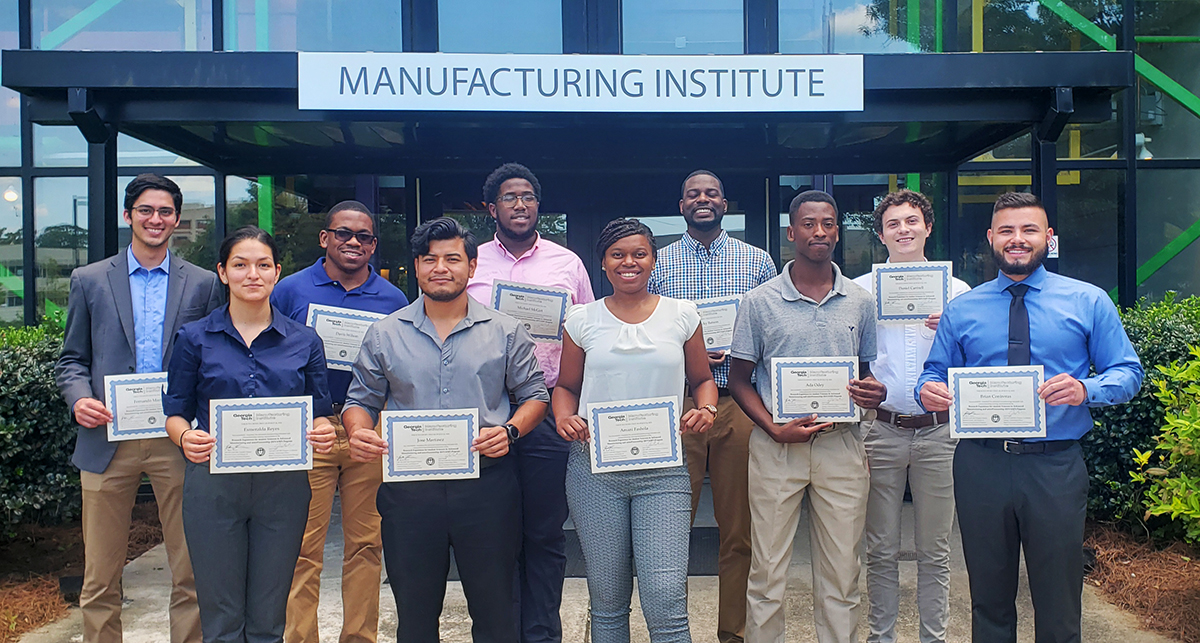 REVAMP REU: Georgia Tech Manufacturing Institute – Summer 2021
The deadline to submit the application is March 15, 2021.

Sections:
The Research Experience for Student Veterans in Advanced Manufacturing and Entrepreneurship (REVAMP) program is funded by the National Science Foundation (NSF) as a Research Experience for Undergraduates (REU) summer site. The Georgia Tech Manufacturing Institute (GTMI) hosts the program to train undergraduate students in the fundamental principles of:
Advanced manufacturing science and technology
The transition of basic discoveries in manufacturing science into innovative commercial products and processes.
Program Details

REVAMP is a 10-week summer program that is being held from May 18 – July 24 at the Georgia Tech Manufacturing Institute, located on the Georgia Institute of Technology main campus. Students work under the supervision of a faculty mentor to complete a research project centered on cutting edge manufacturing science and technology. They also receive entrepreneurship training through attending seminars and learning from successful startup companies. Learn more about REVAMP research areas (shown below).
Benefits Each Student Receives
$5000 Stipend                                 
On-campus housing     
$500 support towards travel
Professional development              
Leadership skills
Entrepreneurship training
Hands-on training in manufacturing research
Tours of manufacturing facilities
Conference opportunities
Who Should Apply
Undergraduate students in all STEM majors
Student veterans, minorities, and women in STEM fields are strongly encouraged to apply
U.S. citizenship or permanent residency is required
 
Program Contacts
Billyde Brown, GTMI Director of Manufacturing Education Programs
Chuck Zhang, Professor, H. Milton Stewart School of Industrial & Systems Engineering
Program email (use this email address for the fastest response): revampreu@gtmi.gatech.edu
Applying for the Summer 2021 REVAMP REU Program
The Summer 2021 REVAMP REU program is now accepting applications.  The deadline to submit the application is March 15, 2021.  In preparation for submitting an application, please carefully review the application guidelines shown below.
Application Requirements
To aid students in considering the program, important application requirements are provided below:
Applicants must be U.S. Citizens or Permanent Residents.
Applicants must be enrolled in a STEM undergraduate degree program at their home college or university.
A minimum GPA of 3.0 on a 4.0 scale is required. A GPA of 3.5 on a 4.0 scale is preferred.
 
Before you begin your Application
Before you begin your application, we strongly encourage you to: 
Ensure that you meet all application requirements listed above.
Read through the REVAMP Research Areas (shown below) and identify three faculty members that you would be interested in working with during the program. Be prepared to rank your interest in working with the faculty members as you complete your application, and describe why each of their research areas is of interest to you.
Plan for time to answer several additional questions that describe your current field of study, your interests in advanced manufacturing and entrepreneurship, your expectations from the REVAMP program, and an explanation of how the program will be of benefit to you in your studies and future career plans. 
Obtain an unofficial electronic copy of your transcript to submit with your application.
Identify three references that are willing, upon request, to comment on why they believe that you are an excellent fit for this program. You need to provide their name, phone number and email address on the application form.
To apply, please visit https://www.nsfreu.org/reu-applicant/general-info and create an account.

 
REVAMP Research Areas
If accepted into the REVAMP REU, each participant will be paired with a faculty member with whom they perform a research project over the 10-week summer program. To gain an idea about the research projects that will be available, the REVAMP REU participating faculty members and a brief description of their research interests are listed below. For additional information about each faculty member's research, follow the links provided. Please note that the following list is subject to change, however applicants can get a good idea of what research topics are possible. Specific projects will be discussed with students after they have been accepted into the program.
Dr. Dongang Yao
Biologically enabled and bio-inspired materials, polymers and macromolecules, computational design, modeling, and simulations, polymer microfabrication (micromolding processes), sustainable composites processing, Polymer fiber processing, constitutive modeling, and manufacturing process modeling and simulation. Click here for additional information about Dr. Yao and his research.
Mr. Andy Dugenske
At the Factory Information Systems (FIS) Group, we help companies reduce cycle time and decrease costs by applying emerging technologies to real-world needs. Click here for additional information about Mr. Dugenske and the FIS research group.
Dr. Tequila Harris
Manufacturing and fluid mechanics; polymer processing, mechanical system design, fluid flow, and mechanical and physical property characterization of thin film. Click here for additional information about Dr. Harris and her research.
Dr. Shreyes Melkote
Manufacturing and tribology; precision machining, fixturing/handling, and hybrid micromachining processes. Click here for additional information about Dr. Melkote and his research.
Dr. Raghuram Pucha
Computer-aided engineering design and manufacturing: Analysis of composite materials for structural and electronics applications, manufacturing process mechanics and design-for-reliability. Click here for additional information about Dr. Pucha and his research.
Dr. Billyde Brown
Nanomaterials: Metal/metal-oxide nanoparticles and thin films, and various carbon nanostructures such as vertically aligned carbon nanotubes and graphene nanosheets.  Applications include energy storage/conversion devices, chemical and biological sensors, thermal interfaces, and nanomanufacturing. Click here for additional information about Dr. Brown and his research.
Dr. Chuck Zhang
Scalable nanomanufacturing, modeling, simulation, and optimal design of advanced composite and nanomaterials manufacturing processes, multifunctional materials development, geometric dimensioning and tolerancing, and metrology. Click here for additional information about Dr. Zhang and his research.
Dr. Yan Wang
Nanoscale CAD/CAM/CAE, process design and optimization in additive manufacturing, big data analytics for process monitoring and prognostics, multi-scale simulation of manufacturing processes. Click here for additional information about Dr. Wang and his research.
Dr. Kamran Paynabar
Engineering-driven statistical modeling, statistical learning methods for big data analytics, quality engineering, system informatics and control, predictive analysis and real-time optimization.  Click here for additional information about Dr. Paynabar and his research.
Dr. Kyriaki Kalaitzidou
Manufacturing and mechanics of materials: Multifunctional polymer nanocomposites, stimuli-responsive particles, residual stress at polymer interfaces and bilayer structures, and polymer-polymer and polymer-inorganic interfacial interactions.  Click here for additional information about Dr. Kalaitzidou and her research.
Dr. Jerry Qi
Mechanics of Materials; Soft active materials; 3D/4D printing technology; 3D printing of active materials and structures; Design of active materials and structures; Recyclable polymer systems; Experimental characterization and constitutive modeling of nonlinear thermoviscoelastic behaviors of polymers; Polymer physics and mechanics; Photo-mechanics of light activated polymers; Shape memory polymers; Nonlinear finite element analysis; Mechanics of soft tissue growth.  Click here for additional information about Dr. Jerry Qi and his research.