Internet of Things for Manufacturing and Factory Information Systems
The Internet of Things for Manufacturing (IoTfM) is reshaping manufacturing and sparking a rapid digital transformation of the factory floor.
The Georgia Tech Manufacturing Institute (GTMI) Factory Information Systems Center (FIS) is a leader in IoTfM research and education. Over the past 25 years, we have undertaken projects with dozens of companies on a wide array of technological topics."
By applying our deep and objective expertise, we help companies increase program predictability, decrease costs, reduce risk and improve productivity.
How can GTMI help you realize the potential of IoTfM?
Technological Roadmap Development: With the myriad of technological solutions and strategies for implementing IoTfM, getting started can often feel daunting. Thanks to GTMI's vast experience, we can develop a technological roadmap for your organization that identifies your needs, documents current gaps and outlines recommended solutions. When formulating an IoTfM strategy, companies find GTMI's objectivity and expertise provides a solid foundation for growth.
Custom Projects: With our track record of successful delivery for dozens of companies, GTMI can partner with you to identify your organization's specific needs, then develop and implement a project plan that allows you to achieve your goals.
Consortia Projects: Consortia projects allow you to leverage your resources by collaborating with organizations with similar needs, under the guidance of a GTMI expert. GTMI has significant experience forming consortia teams that result in learnings that benefit all members.
IoTfM Annual Symposium: Each year, GTMI hosts an IoTfM symposium featuring guest speakers from around the world. The symposium provides opportunities to network and learn from industry leaders.
Manufacturers' Roundtable: GTMI brings together representatives from leading manufacturing companies to explore IoTfM ideas, challenges and solutions in intimate and candid discussions.
GTMI's IoTfM expertise includes:
Factory Architectures: As manufacturers seek to reap the benefits of rapidly advancing technologies such as machine learning, today's ad hoc and tightly coupled legacy systems are proving increasingly limited. Factories of the future will need software architectures capable of seamlessly exchanging data among a variety of machines and applications. That's why GTMI has developed a Decoupled Digital Architecture, a high performance, low cost, standards-based leap ahead of current legacy systems.
Machine Communication: GTMI develops solutions that address the wide variety of protocols used by manufacturing equipment, PLCs, SCADA applications, MES and ERP systems. GTMI was a leader in the development of key industry standards, including MTConnect and Computer Aided Manufacturing using XML (CAMX), streamlining communication with machines on the shop floor. GTMI also has vast experience interfacing to equipment and manufacturing applications using protocols such as OPC-UA, Modbus, ROS and SECSII/GEM.
Cloud Computing: Cloud computing is swiftly transforming manufacturing by providing unprecedented access to innovation, software, services and infrastructure. GTMI has expertise developing and deploying cloud solutions in areas including machine learning, Internet of Things, stream analytics, high-speed processing of data, load balancing, standardized architectures, optimal data storage and presentation. We can help you navigate the myriad of cloud services and vendors to reduce costs and enhance success.
Cybersecurity: As new technologies and equipment are added to manufacturing supply chains, the attack surface available to malicious actors expands. As a result, cybersecurity implementation and maintenance are becoming greater cost drivers for manufacturers. Many  firms struggle to stay abreast of this rapidly evolving field. GTMI researchers are actively leading basic and applied research for developing methods, techniques, standards and software that enhance the security and resilience of manufacturing systems and the supply chain. One ongoing GTMI initiative is the Center for Biomanufacturing Cybersecurity and Resilience (CBCR), a consortium of industry, academic, government and not-for-profit partners dedicated to achieving secure, resilient and competitive biomanufacturing.
Edge Devices: The increased power, reduced cost and enhanced bandwidth of microcontrollers, single-board computers and sensors allow edge devices to be installed within machine tools and work cells. These edge devices efficiently collect, analyze and transmit manufacturing process information. By conducting analytics on sensor data, these devices allow quick process improvements without the need to transfer large amounts of raw data. GTMI is at the forefront of developing edge devices capable of high-speed data sensor gathering, enabling enhanced hardware and software development and smarter decisions.
Machine Learning and Artificial Intelligence: The massive growth of Machine Learning (ML) can transform data processing and deliver exceptional insight into processes and operations. GTMI researchers apply new analytic techniques, software libraries and hardware platforms to develop ML strategies that solve problems that have long frustrated manufacturers. And we go beyond concept to application. Our diverse array of industrial equipment allows us to run experiments to verify ML algorithms, ensuring successful deployment.
Overall Equipment Effectiveness (OEE): OEE is a standard way for analyzing and comparing machine utilization from machine throughput, part quality and performance relative to schedule. Since OEE calculations require obtaining and processing data from multiple systems (e.g., machine, quality, MES, ERP, scheduling), advanced knowledge of those systems is critical. GTMI offers the expertise you need to assess OEE for your factory assets, delivering accurate data that can be reliably used for comparison, benchmarking and decision-making.
Predictive Maintenance: Legacy maintenance routines are often based on the calendar rather than on true need. Critical parts are replaced, refurbished or serviced at set intervals. However, manufacturers find that parts are often replaced too soon (wasting usable life and consuming valuable machine downtime) or too late (resulting in unplanned outages that disrupt operations). Predictive maintenance allows manufacturers to monitor part performance and perform maintenance when degradation is detected, paving the way for reduced downtime, cost and risk. GTMI can help you minimize the guesswork of scheduling maintenance by implementing a predictive approach to maintenance.
To learn more
For more information, please visit the GTMI Factory Information Systems (FIS) web site.
A Glimpse Into Smart Manufacturing
Smart manufacturing is about harnessing new technologies to enable faster, better, cheaper. Several new technologies help to achieve those goals. GTMI is helping to take the manufacturing community to new heights and ensure competitive advantages.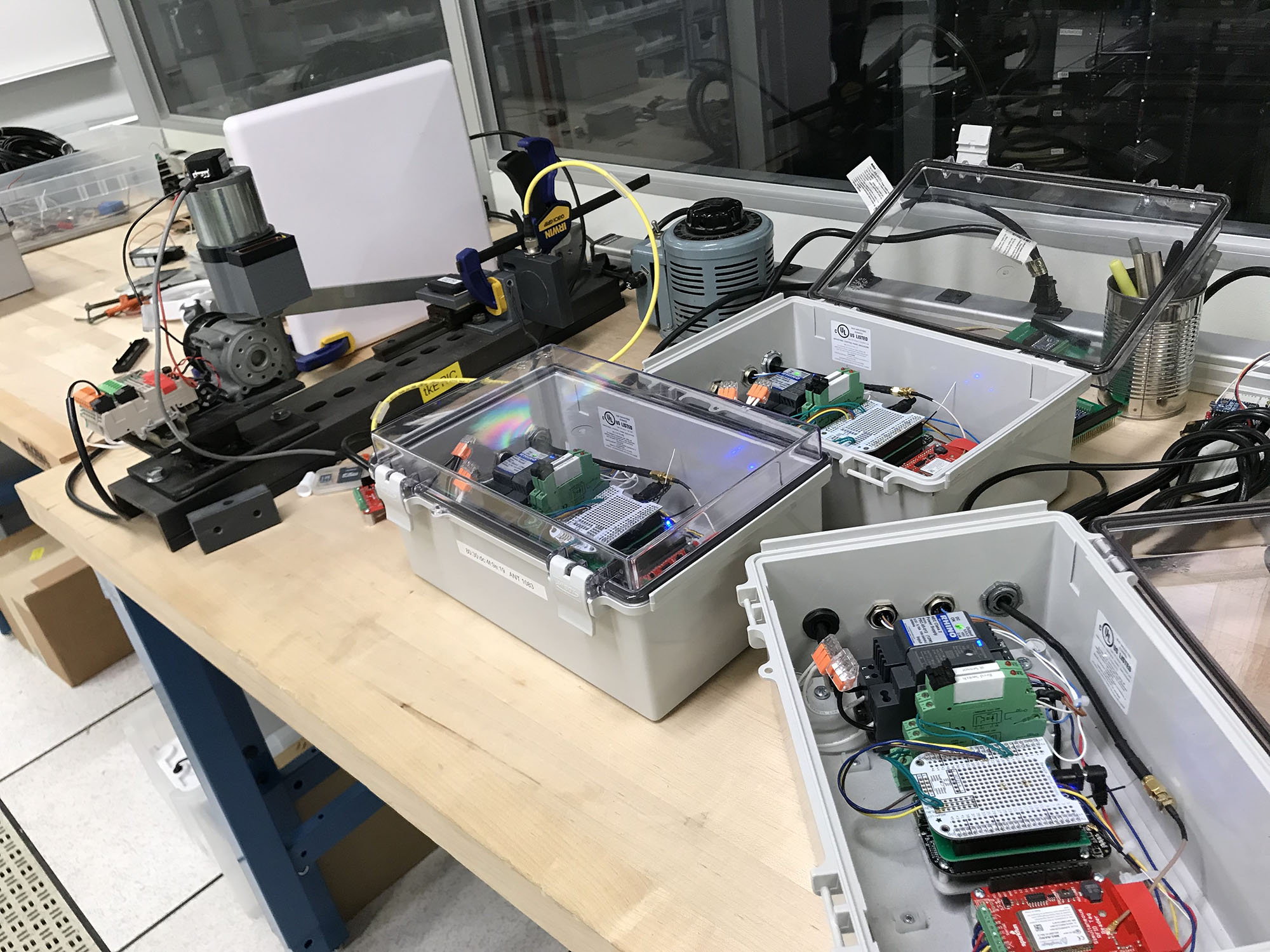 This picture shows three sensor kits that were developed by GTMI and are undergoing testing in the GTMI Factory Information Systems lab prior to being deployed on press brakes at a factory where they will be used to determine part throughput and the tooling used to produce the parts. The kits contain a single board Linux computer that uses an RFId antenna to detect industrial RFId tags mounted on the tooling and proximity switches to determine machine cycles.
Faculty and Research Collaborators at GT
Burak Bagdatli, Ph.D., Research Engineer II, Aerospace Systems Design Laboratory (ASDL), School of Aerospace Engineering
James Budd, Ph.D., Chair and Professor, School of Industrial Design
Olivia Fischer, Ph.D., Senior Research Engineer; Chief, Digital Engineering Division, Aerospace Systems Design Laboratory (ASDL), School of Aerospace Engineering
Katherine Fu, Ph.D., Assistant Professor, School of Mechanical Engineering
Amit Jariwala, Ph.D., Director of Design & Innovation, School of Mechanical Engineering
Thomas Kurfess, Ph.D., Professor and HUSCO/Ramirez Distinguished Chair in Fluid Power and Motion Control, School of Mechanical Engineering
Christopher Le Dantec, Ph.D., Associate Professor, Digital Media Program, School of Literature, Media, and Communication 
Alain Louchez, Co-Founder and Director Emeritus, Georgia Tech's Center for the Development and Application of Internet-of-Things Technologies (CDAIT)
Vijay Madesetti, Ph.D., Professor, School of Electrical and Computer Engineering
Dimitri Mavris, Ph.D., Regents Professor, Boeing Professor of Advanced Aerospace Systems Analysis, & Langley Distinguished Professor in Advanced Aerospace Systems Architecture, School of Aerospace Engineering
Shreyes Melkote, Ph.D., Morris M. Bryan, Jr. Professorship in Mechanical Engineering
Roxanne Moore, Ph.D., Research Engineer II, School of Mechanical Engineering
Tegas Puranik, Ph.D., Research Engineer II, Aerospace Systems Design Laboratory (ASDL), School of Aerospace Engineering
Alyssa Rumsey, Ph.D., Senior Industry Engagement Manager, Center of Innovation for Manufacturing, Georgia Department of Economic Development
Christopher Saldana, Ph.D., Ring Family Professor, Manufacturing 
Ben Wang, Ph.D., Executive Director of GTMI, Professor, School of Industrial & Systems Engineering and School of Materials Science and Engineering
Wei Wang, Ph.D., Assistant Professor, School of Industrial Design
Chip White, Ph.D., Associate Professor, School of Chemical and Biomolecular Engineering 
Miyako Wilson, Research Engineer, Aerospace Systems Design Laboratory (ASDL), School of Aerospace Engineering
Chuck Zhang, Ph.D., Harold E. Smalley Professor, School of Industrial & Systems Engineering