Biomanufacturing
Georgia Tech Manufacturing Institute (GTMI), in partnership with other GT institutes and schools, as well as a number of industry and other academic partners, is helping to forge new frontiers in biomanufacturing, with cutting edge research into manufacturing processes, technologies and systems, for medical as well as non-medical applications.
Medical Applications
Biomanufacturing Supply Chain Simulation Program and Decision Support System
GTMI is partnering with the GT-led NSF Engineering Research Center for Cell Manufacturing Technologies (CMaT), Marcus Center for Therapeutic Cell Characterization and Manufacturing (MC3M) , the Institute for Data Engineering and Science and BioFab USA to develop a customizable and interactive supply chain simulation program and decision support system to facilitate informed and dynamic supply chain modeling, tailored to the unique needs of the biomanufacturing industry. 
Like other industries, the biomanufacturing industry faces common supply chain challenges, such as balancing affordability, responsiveness, transparency, security (free of physical and cyber disruptions), and resilience. However, the biomanufacturing industry faces the added challenges associated with patient access, managing personalized products, and the dynamic, living, nature of the products in the supply chain. The GT developed SCL solution will enable national connectivity and secure data sharing amongst key players throughout the medical biomanufacturing supply chain – to enable more responsive and more informed supply chain decision making. Users will have the ability to securely upload their own test data to "plug and play" software modules relevant to their test cases and review the output of their simulations to inform supply chain planning. The software platform has already been tested by several academic and industry partners and received very positive reviews. GTMI is now working on the vision for version 2.0 of this platform, to make it even more useful and more broadly available.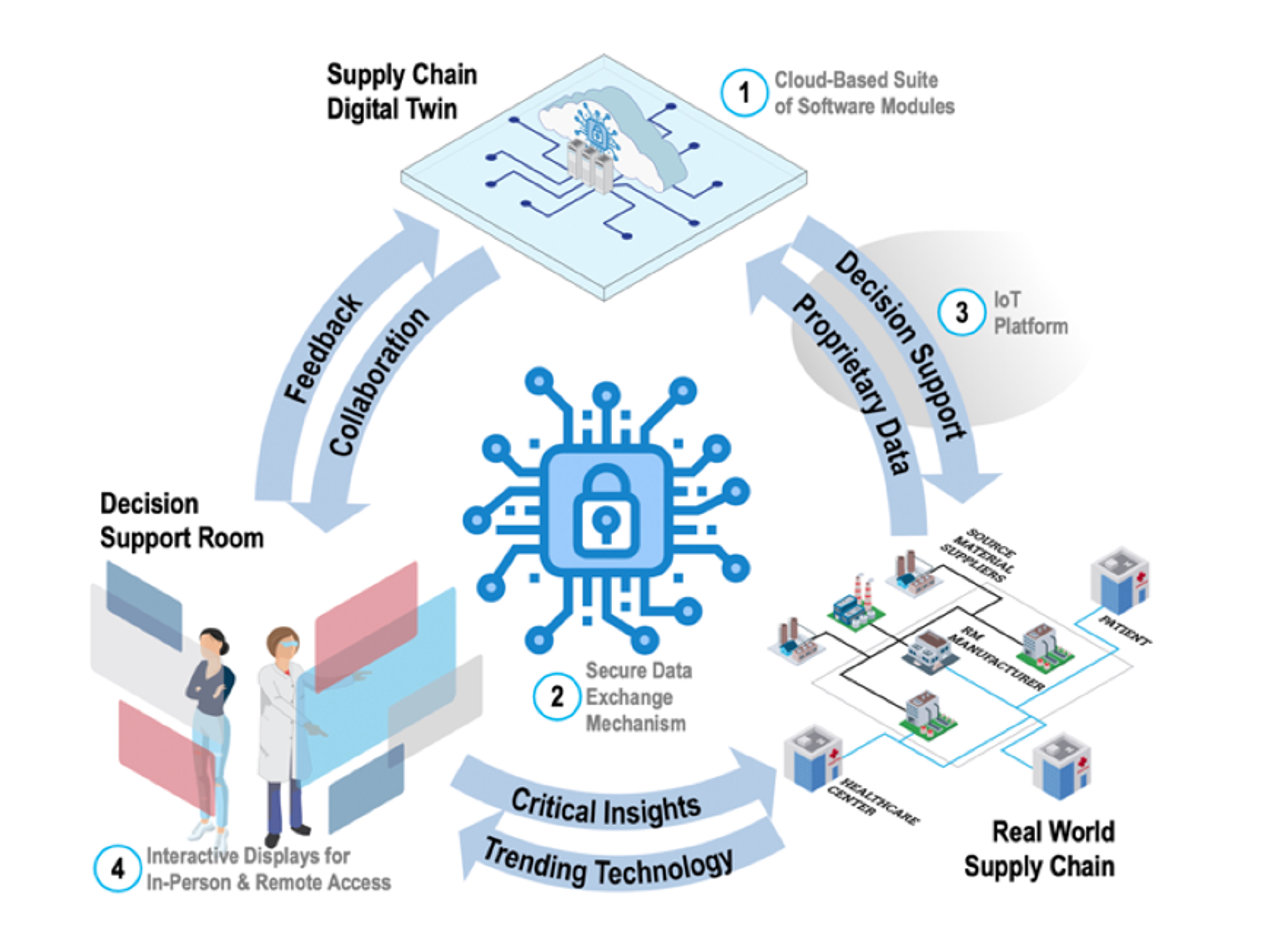 Figure 1. Representation of GT-developed Supply Chain Simulation Program and Decision Support System
Bio-sensors for Closed-Loop Control of Biomanufacturing Processes
GTMI researchers are developing a biophysical approach for cell density and morphology sensing that is label-free, in-situ, continuous, real-time, and designed to be used in-line with cell bioreactors. Current therapeutic cells manufacturers use no or few sensors to monitor, in real-time, the critical quality attributes of cell products, such as the quantity and morphology of cells. Instead, technicians must periodically sample the culture and perform testing manually. This procedure is costly, risks contamination, and is not amenable to the automation of decision making, i.e., how to change culture conditions or when to harvest the culture.
In collaboration with CMaT and MC3M, GTMI is leveraging the latest 3D printing, printed electronics, and data informatics technologies to design, fabricate, and validate a wireless, calibration-free, and distributed sensor array platform for in-line monitoring of cell culture conditions in scaleup bioreactors. Such biosensors are based on the bio-impedance measurement principle. GTMI has adopted the loss medium theory to analyze the relationship between the measured signals and cell density. In addition, based on the theory of LCR resonance, GTMI has developed a wireless measurement system for passive and chip-less sensors. Integrated together with a network of automated devices, these sensors can enable true CQA closed-loop control of the biomanufacturing process.  The following figures show the impedance-based biosensor testing platform and preliminary results for viable cell count measurement and monitoring.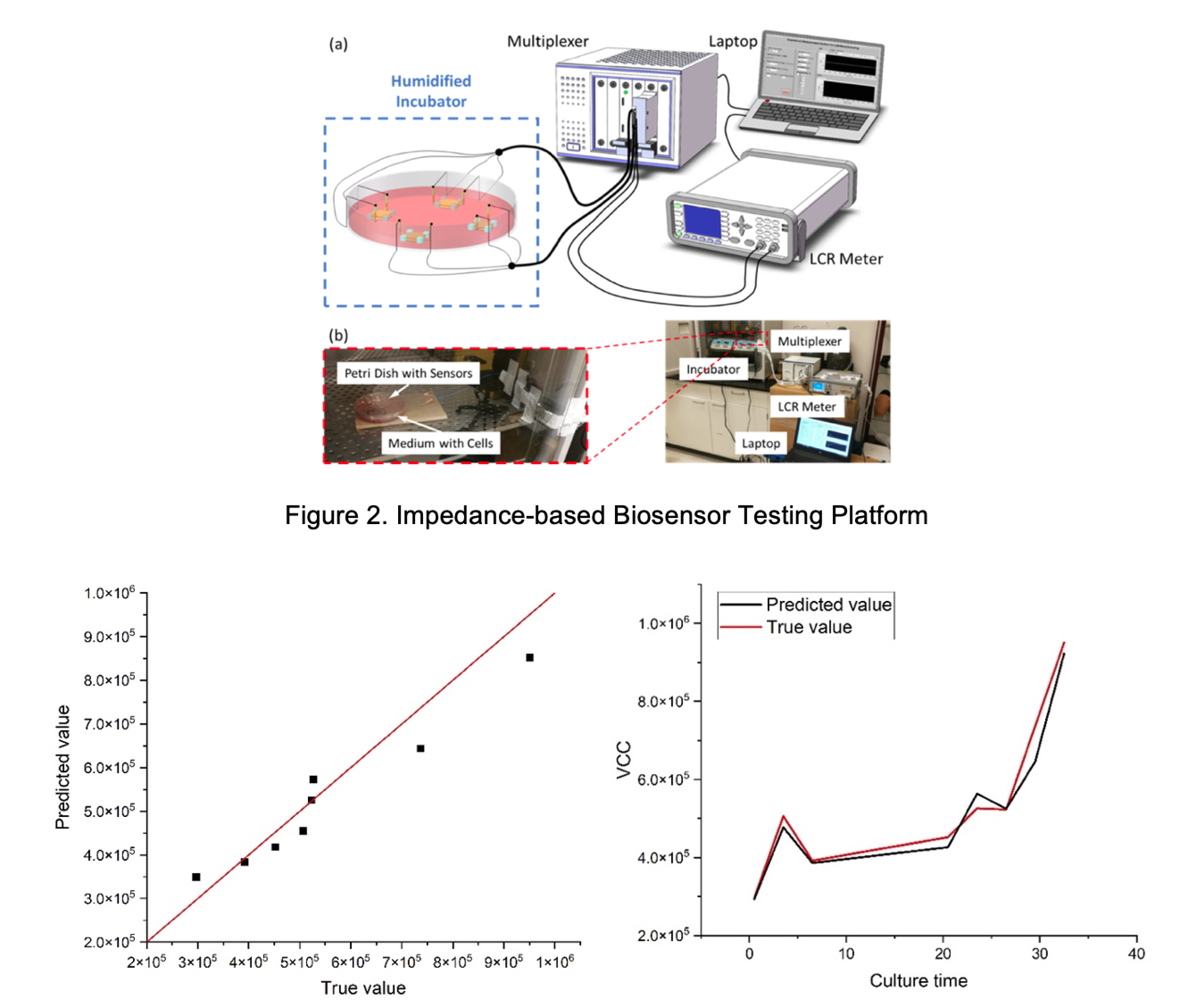 In an additional project sponsored by the Georgia Tech Research Institute – Executive Vice President for Research Small Bets Program, GTMI researchers are collaborating with scientists and researchers at GTRI to develop other types of biosensors, such as gas sensors, using similar principles and data analytics techniques. These biosensors can be used to monitor the biomanufacturing processes from analysis of headspace gas in bioreactors. 
Non-medical Applications
Bio-sensors for Control of Non-Medical Biomanufacturing Processes
The GTMI-developed bio-sensors mentioned above, such as gas sensors that are currently being piloted in the medical industry, can be used to monitor product conditions and detect product anomalies in other industries as well, such as food manufacturing.
Food Manufacturing
Researchers in the Food Processing Technology Division of the Georgia Tech Research Institute (GTRI), a sister IRI of GTMI, are developing innovative engineering and technology solutions that improve the overall performance and efficiency of the production process from farm to fork. Challenges include improving animal health and welfare; reducing water usage and environmental impact; achieving labor efficiencies improving product quality through automation; and developing workplace safety methods and technologies.
Bioindustrial Manufacturing
Georgia Tech is serving as a critical hub for the newly formed Bio industrial Manufacturing Innovation Institute sponsored by the Department of Defense and called BioMADE. BioMADE is led by Engineering Biology Research Consortium (EBRC), a non-profit public-private partnership. BioMADE is working to build a sustainable, domestic end-to-end bioindustrial manufacturing ecosystem that will enable domestic bio industrial manufacturing at all scales, develop technologies to enhance U.S. bio industrial competitiveness, de-risk investment in relevant infrastructure, and expand the biomanufacturing workforce to realize the economic promise of industrial biotechnology.
Faculty and Research Collaborators at GT