Convening Georgia Tech and Industry to Advance Energy Storage Technologies
Thursday, March 30, 2023
Global Learning Center
Tech Square, Georgia Tech Campus
Atlanta, GA
Poster Session
Students attending Battery Day are encouraged to participate in a poster session from 1:00 p.m. - 2:30 p.m. Interested students should request a seat at the event and select the poster session option on the registration form. Students approved to participate in the poster session should plan to be with their poster the entire time.
Agenda
Time
Agenda Item
8:00 a.m. - 8:50 a.m.
Registration and coffee
8:50 a.m. - 9:00 a.m.
Welcome | Julia Kubanek, Vice President for Interdisciplinary Research, Georgia Tech
9:00 a.m. - 9:30 a.m.
Presentation: Battery R&D Overview at Georgia Tech | Matt McDowell
9:30 a.m. - 10:30 a.m.

Industry Panel: Batteries for Electric Mobility (Moderator: Rich Simmons)
Stephanie Valdez-Streaty, Cox Automotive | Mitul Dalal, Panasonic | Andy Moore, Blue Bird Corp. | Chad Bednar, Delta Air Lines | Byungho Lee, Hyundai-Kia America Technical Center

10:30 a.m. - 11:00 a.m.
Presentation: Battery R&D Translation Success at Georgia Tech | Gleb Yushin
11:00 a.m. - 11:15 a.m.
Break
11:15 a.m. - 11:30 a.m.
Georgia Tech Lightning Talk: Battery Materials R&D | Seung Woo Lee
11:30 a.m. - 11:45 a.m.
Georgia Tech Lightning Talk: Storage for the Grid | Santiago Grijalva
11:45 a.m. - Noon
Georgia Tech Lightning Talk: Roll-to-Roll Processing at Georgia Tech | Tequila Harris
Noon - 1:00 p.m.
Lunch
1:00 p.m. - 2:15 p.m.
Networking and Student Poster Session
2:15 p.m. - 3:10 p.m.

Industry Panel: Materials, Manufacturing, and Market Opportunities (Moderator: Matt McDowell)

Glen Merfeld, Albemarle | Raj Gopalaswamy, Novelis | Michael Finelli, Solvay | Julie Bennett Bunuan, Truist Securities | Hilton Augustine, Energy Impact Partners

3:10 p.m. - 3:25 p.m.
Georgia Tech Lightning Talk: Redox flow batteries and aqueous chemistries | Nian Liu
3:25 p.m. - 3:40 p.m.
Georgia Tech Lightning Talk: AI-Accelerated Manufacturing | Aaron Stebner
3:40 p.m. - 3:55 p.m.
Break
3:55 p.m. - 4:35 p.m.

Industry Panel: The Grid, Infrastructure, and Communities (Moderator: Faisal Alamgir)

Roxann Walsh, Southern Company | Brian Berland, Stryten Energy | Cynthia Curry, Metro Atlanta Chamber of Commerce

4:35 p.m. - 4:48 p.m.
Georgia Tech Lightning Talk: Battery Recycling | Hailong Chen
4:48 p.m. - 5:00 p.m.
Georgia Tech Lightning Talk: Parametric Life-Cycle Models for a Solid-State Battery Circular Economy | Ilan Stern
5:00 p.m. - 6:30 p.m.
Concluding Remarks, Hors d' oeuvres, and networking
Recent Battery News from Georgia Tech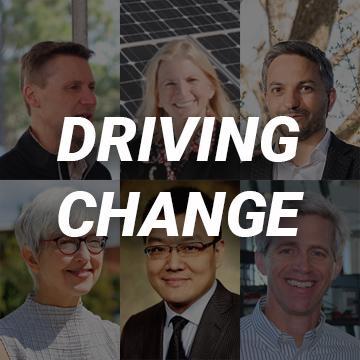 Driving Change: Georgia Tech Experts Lead in Electrification of America's Roads
Idling at a crossroads no longer, the automotive industry is embracing electrification like never before. With more electric vehicles purchased in 2022 than any year prior, consumers are beginning to follow their lead. Yet, while opportunity abounds, new challenges will require an innovative approach to ensure a sustainable and accessible electric future for all.
With historic investments from major players in the EV space, including Rivian, Kia, and Hyundai, the state of Georgia is uniquely positioned to serve as a leader in this effort. As the state's leading research institute, Georgia Tech is on the cutting edge of the movement.
Researchers Create Smaller, Cheaper Flow Batteries for Clean Energy
Clean energy is the leading solution for climate change. But solar and wind power are inconsistent at producing enough energy for a reliable power grid. Alternatively, lithium-ion batteries can store energy but are a limited resource.
Flow batteries offer a solution. Electrolytes flow through electrochemical cells from storage tanks in this rechargeable battery. The existing flow battery technologies cost more than $200/kilowatt hour and are too expensive for practical application, but Liu's lab in the School of Chemical and Biomolecular Engineering (ChBE) developed a more compact flow battery cell configuration that reduces the size of the cell by 75%, and correspondingly reduces the size and cost of the entire flow battery. The work could revolutionize how everything from major commercial buildings to residential homes are powered.
Energy Dept Invests $100M in Gleb Yushin's EV Battery Startup
In the decade since Professor Gleb Yushin's battery materials startup participated in Georgia Tech's Advanced Technology Development Center, investments in the company have rolled in — along with the first customers.
Now the U.S. Department of Energy (DOE) is getting on board with Yushin's Georgia Tech startup as part of federal efforts to reinvigorate tech manufacturing in the United States.
DOE awarded Sila Nanotechnologies $100 million this fall to support the company's new factory in Moses Lake, Washington, and help Sila hire and train up to 300 workers for the facility. It was one of 21 projects funded in domestic battery materials processing and manufacturing.
Local Hotels
Georgia Tech is located in the heart of Midtown Atlanta and has a wide variety of hotel options to choose from. Georgia Tech has partnered with a variety of nearby hotels to provide discounted rates to our visitors. View our hotel list and pricing on our
Campus Travel page
.