HELP
Didn't find what you are looking for? We'd like to help!
 
GT Community Inquiries
Contact: Office of EVPR Team
All Other Inquiries
Contact: Georgia Parmelee, Director of Research Communications
 
EPICenter Hosts Energy Unplugged In-Person Summer Camp
Jul 23, 2021 — Atlanta, GA
On June 21-25, the Strategic Energy Institute's Energy Policy and Innovation Center (EPICenter) hosted "Energy Unplugged," an energy-themed STEAM camp for high school students. During the week, Rich Simmons and a variety of energy experts, from Georgia Tech and around the state, led hands-on activities, interactive demonstrations, and educational presentations. Students also got the opportunity to tour the Kendeda Building for Innovative Sustainable Design and the Georgia Tech Student Competition Center.
The course included segments on how electricity is generated, where it comes from, where it goes, what it costs, its environmental impacts, and how it might be brought to more of the world's 2.5 billion people without sufficient access to electricity. Camp students gained insights into microgrids and electric vehicles by conducting experiments involving solar panels, batteries, and remote-control cars. They also talked to researchers who are making electricity cleaner and more efficient, while learning about the future of energy and how an emphasis on STEAM in school can be a path that leads to an energy career. The week concluded with presentations of team projects focused on delivering basic energy services to off-grid communities in the developing world, and viable small business opportunities that might emerge from such initiatives.
Energy Unplugged was administered by Georgia Tech Summer P.E.A.K.S. (Program for Enrichment and Accelerated Knowledge in STEAM) at CEISMC (the Center for Education Integrating Science, Mathematics, and Computing). CEISMC serves as the primary connection point between Georgia Tech faculty and students and the preK-12 STEAM education community, reducing the barriers between kids and higher education. Annually, CEISMC programs impact more than 39,000 students, 1,700 teachers, 200 schools in over 75 school districts throughout the state of Georgia.
The Kendeda Building for Innovative Sustainable Design, on the Georgia Tech campus, served as a classroom and instructional backdrop for the camp. The Living Building, as it is often called, is certified to generate more energy than it consumes, collect and infiltrate more water into the ground than it consumes, and, to the greatest extent possible, to be regenerative, rather than consumptive. The course is held every summer for up to 30 high school students.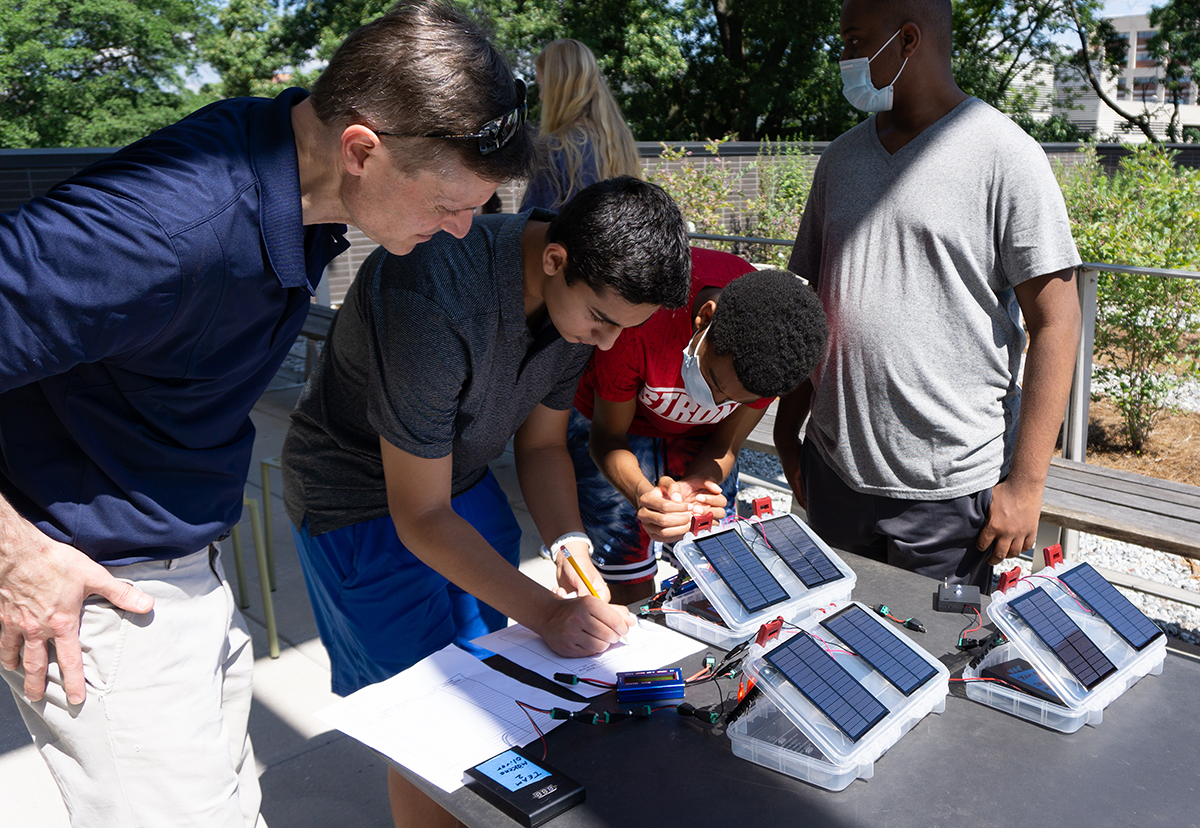 Email
brent.verrill@research.gatech.edu