80 Years of the Georgia Tech Research Corporation
Nov 21, 2017 — Atlanta, GA
Georgia Tech Research Corporation 80th Anniversary Awards
November 21, 2017
A celebration of 80 years of the Georgia Tech Research Corporation (GTRC) took place Thursday, Nov. 2, at the Historic Academy of Medicine at Georgia Tech.
The celebration was part of a meeting of GTRC's Board of Trustees and recognized innovators who are creating the next, and those who are living out Georgia Tech's motto of progress and service.
Congratulations to the following honorees. Learn more about the history of GTRC below.
Creating the Next Awards
Innovation and Impact in Life Sciences and Bioengineering
Robert M. Nerem
Professor Emeritus
George W. Woodruff School of Mechanical Engineering
Over his career, Bob's work extended from understanding the role of blood flow and the associated shear stress on vascular endothelium, to the influence of cyclic stretch on smooth muscle cell biology, and the tissue engineering of blood vessel substitutes. Bob helped create the field of regenerative medicine, and launch the Parker H. Petit Institute for Bioengineering and Bioscience.
Innovation and Impact in Computer Science and Cognitive Science
Ashok K. Goel
Professor, School of Interactive Computing,
College of Computing
Ashok conducts research into human-centered computing, artificial intelligence and cognitive science, with a focus on computational design, discovery, and creativity. He created Jill Watson, the teaching assistant who taught us that artificial intelligence can help us learn. Jill is also teaching us what the future of human-centered computing will be.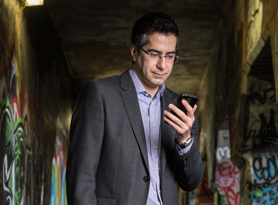 Innovation and Impact in Electronics and Nanotechnology
Farrokh Ayazi
Ken Byers Professor in the School of Electrical and Computer Engineering
Farrokh is the co-founder and chief technology officer of Qualtre Inc., a GTRC spin-off that commercializes bulk-acoustic-wave (BAW) silicon gyroscopes and multi-degrees-of-freedom inertial sensors for consumer electronics and personal navigation systems.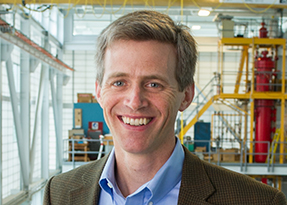 Innovation and Impact in Energy and Sustainability
Timothy Charles Lieuwen
With an interest in acoustics, fluid mechanics, and combustion, Tim works closely with industry and government, particularly focusing on fundamental problems that arise out of development of clean combustion systems or utilization of alternative fuels. Tim helped create the Energy Policy and Innovation Center which provides an unbiased framework for stimulating energy innovation in the Southeast.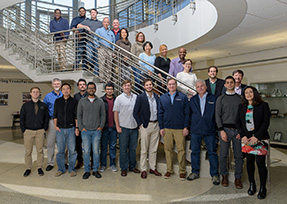 Innovation and Impact in Manufacturing, Trade and Logistics
Food Processing Technology Division
Georgia Tech Research Institute
In keeping with GTRI's roots as the Engineering Experiment Station, the Food Processing Technology Division promotes partnerships with industry, government, and non-profits; transforms breakthrough technologies into products; and spurs economic development throughout Georgia and beyond.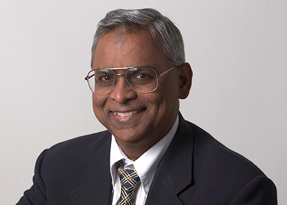 Innovation and Impact in Materials Research
Satish Kumar
Professor, School of Materials Science and Engineering
Satish's research is in the areas of high performance materials, bio materials, energy storage, nano materials, functional electronics, optical materials, as well as fibers and composites. He created new techniques for making and using carbon nanotube fibers and composites that have broad potential industrial applications.
Innovation and Impact in National Security Research
Robotics and Autonomous Systems Division
Georgia Tech Research Institute
GTRI's Unmanned and Autonomous Systems group is driving innovation in unmanned systems from basic research to advanced prototypes and systems. These folks looked at yellow jackets and taught their vehicles to swarm all by themselves. These advances in autonomous systems will be integral parts of our national security and defense capability.
Innovation and Impact in Robotics
Magnus Egerstedt
Executive Director, Institute for Robotics and Intelligent Machines; Professor and Julian T. Hightower Chair in Systems and Controls, School of Electrical and Computer Engineering
Funded by NSF and ONR, the Robotarium created by Magnus allows researchers from around the globe to write their own computer programs, upload them, and then get the results as the Georgia Tech machines in the Robotarium carry out the commands. Truly — robots for everyone.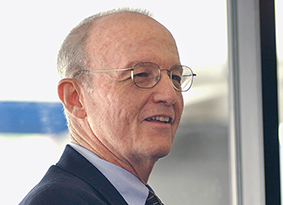 Innovation and Impact in Research and Innovation
Edward K. Reedy
Past Director, Georgia Tech Research Institute
Ed served as director of the Georgia Tech Research Institute (GTRI) from 1998 to 2003, as part of his 33 years of service. During his time at GTRI, he helped create GTARC and enabled GTRI to move to its current cost recovery model which permitted its extraordinary growth and success. Ed also secured the funding for the Food Processing Technology Building, established the Glen P. Robinson Chair in optoelectronics, which was the first endowed chair at GTRI.
Progress and Service Awards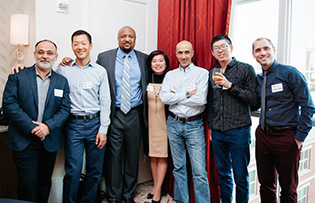 Sustained Impact in Education
Online Master of Science in Computer Science (OMSCS)
College of Computing
The OMSCS has already had an impact on the numbers of highly skilled masters-prepared computer science graduates produced in the United States. A Harvard study predicts that this program will add 7 percent to the number of such graduates each year filling a critical workforce need.  In addition it has increased the accessibility of the degree and diversity of the student body in the field.
Sustained Impact in the Arts
EarSketch
Jason Freeman, School of Music, and Brian Magerko, School of Literature, Media, and Communication
Since launching in 2013, the free EarSketch software has been used by more than 75,000 students in all 50 U.S. states and in more than 100 countries. From EarSketch, K-12 students learn core computational concepts and the Python and JavaScript programming languages.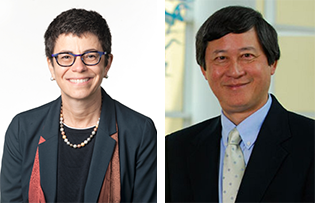 Sustained Impact in Administration
Gisele Bennett
and David N. Ku
Co-Chairs of the Industry Contracting Task Force
Their task force endorsed a fledgling concept that turned into a new way to think about industry-sponsored research that has become a model for universities across the country. Known as the Contracting Continuum, it helped build Georgia Tech's industry sponsored research to about $100 million a year.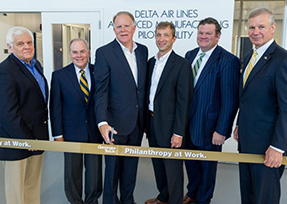 Bridges in GTRC and GTARC Industry Engagement and Collaboration Award
Donald P. McConnell
Vice President, Industry Collaboration
Don is responsible for Georgia Tech's engagement with industry through strategic research collaborations and in the commercial deployment of innovations arising from research. Don's work in establishing multiple sponsors with strategic research themes makes him the developer in Georgia Tech's research neighborhoods.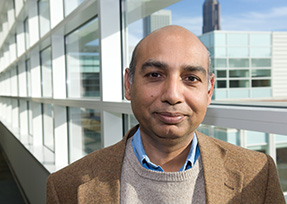 Made in Georgia Award
Mustaque Ahamad
Professor, College of Computing
From its beginning as the Industrial Development Council, GTRC has worked to develop the economy of Georgia through research and technology transfer. Based on work done in Mustaque's lab, Pindrop Security, Inc., was launched and now employs about 800 people in Georgia, while Fraudscope, a newer company, also located in Georgia.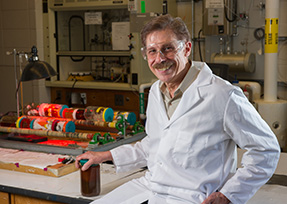 Rosenberg Award for
Technology Transfer
William J. Koros
Professor, Roberto C. Goizueta Chair for Excellence in Chemical Engineering; GRA Eminent Scholar in Membranes; School of Chemical and Biomolecular Engineering
Bill's group is a leader in developing advanced materials for membranes, sorbents, and barrier applications. He is one of Georgia Tech's most prolific inventors and researchers, transferring technology through licensing and industry research.

Done Deals Award: Strategic Corporate Sponsorship
Caroline G. Wood, Suzy S. Briggs, Elizabeth Bryant
Research relationships between a university and a company have at their core a common problem or interest, a genuine relationship between talented faculty and a committed company interested in working together. Suzy, Elizabeth and Caroline each have several "done deals" that they shepherded and stewarded into strategic relationships for Georgia Tech.
Awards for Service to Researchers
Institutional Review Boards
Barbara Henry
Executive Director (retired), Office of Research Integrity Assurance
Barbara retired in early 2017 after more than 26 years of service at Georgia Tech. She now serves as a chair on Georgia Tech's Central IRB Committee.
Institutional Animal Care and Use Committee
T. Richard Nichols
Professor, School of Biological Sciences
Richard has been an IACUC member and the IACUC chair since 2009.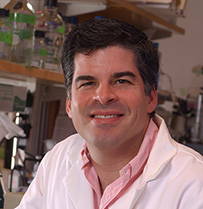 Institutional Biosafety Committee
Andrés J. García
Regents' Professor and Frank H. Neely Chair, George W. Woodruff School of Mechanical Engineering
Andres has been a member of the Institutional Biosafety Committee and chair since 2007.
Institutional Conflict of Interest Committee
William D. Hunt
Professor, School of Electrical and Computer Engineering
Bill joined the Conflict of Interest Committee in 2011. He became the chair in 2015.
About the Georgia Tech Research Corporation
The Georgia Tech Research Corporation (GTRC) was chartered on April 13, 1937, as the Industrial Development Council, a state-chartered, not-for-profit corporation serving Georgia Tech as a supporting organization of the University System of Georgia.
GTRC serves as the contracting and technology transfer entity for the academic colleges of the Georgia Institute of Technology. Founders Preston S. Arkwright, Fuller E. Callaway, Jr., and Monie E. Ferst stated that the objective of the corporation was to stimulate industrial development; to promote the fullest utilization of natural resources; and to foster research, invention, and discovery so as to provide a constantly improving technique in that behalf. In 1946, the name was changed to the Georgia Tech Research Institute, and in 1984 to the Georgia Tech Research Corporation.
Alongside GTRC and celebrating its own 20th anniversary, the Georgia Tech Applied Research Corporation (GTARC) is the contracting organization supporting the work of the Georgia Tech Research Institute.