The Carbon Neutral Energy Solutions (CNES) Laboratory Buildin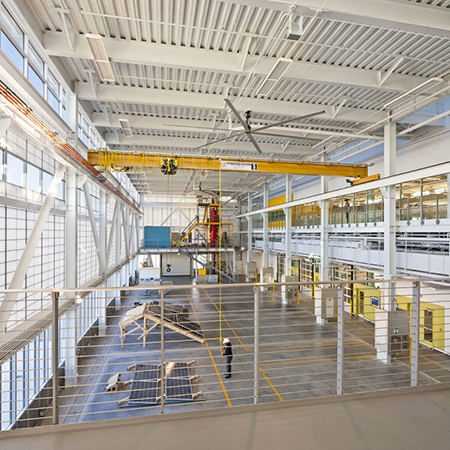 g is designed to foster industry collaboration and support translational and pre-commercial research in clean, low-carbon energy technologies. While the idea for CNES was to build a space that brings together people working on low-carbon energy, GT also wanted to make the building itself a demonstration for applied low-carbon energy technologies. The CNES building is a living lab with an innovative "no frills" design and net-zero carbon emissions. The 42,000-square-foot facility is intended to set a new standard for sustainable design for buildings of its type by optimizing passive energy technologies, reducing electricity loads and maximizing the use of renewable energy.
Some of the key low-carbon features of the building include:
Rooftop solar array that generates 396,000 kilowatt hours per year of electricity, offsetting the building's energy needs.
Large windows to maximize passive heating and lighting.
First building at GT to be certified as LEED Platinum by the U.S. Green Building Council.
Permeable surfaces near parking lot to minimize storm water run-off.
On-site cistern.
During peak solar production times, the building produces more energy than it consumes. The excess energy is redistributed to campus for consumption.
Research with CNES spans all aspects of the energy cycle for both renewable and fossil fuel based energy sources making it the hub of applied energy research at GT. Core research conducted within the lab includes, solar technologies, combustion, gasification, catalysis and bio-catalysis, as well as carbon capture and sequestration.
Some of the key research areas housed within CNES are:
High-efficiency combustion systems
Alternative fuels and renewable energy systems
Biomass gasification
Advanced catalytic and gas separations technologies
Capture and recycling of carbon from power plants and combustion engines.
Tours of CNES are available on request and subject to availability and safety and security protocols. Contact Kristopher Manion for more information.
CNES Machine Shop Info and Documents
CNES Conference Room Booking Form