During the 2017/2018 school year, eight Sustainable Undergraduate Research Fellows (SURFers) began the development of an interactive dashboard for the Kendeda Building for Innovative Sustainable Design. The project continues with a new cadre of SURFers. Real-time data on Site, Water, Energy, Health, Materials, Equity, and Beauty (the 7 petals of a Living Building) will be formatted for display in an interactive monitoring system. This prototype is envisioned to interface with the operations, activities, and prevailing conditions with the Living Building as a center of reference. From there, information can be shown as users expand their reference frame outward through the scales of the campus, the city, the region, and the globe. The following video describes one of the concepts to come out of the SURFers research.
Some may regard building dashboards as a worthy, but unsuccessful experiment of many green buildings in the recent past.  However, the Living Building puts the idea of a dashboard in a new context.  Most building dashboards lose their novelty soon after building commissioning and become stale, obsolete, or inoperable within a few months of their debut. In contrast, this living monitoring system will adapt as the building moves through its lifecycle, as its occupants transition through, and as the climate and environment in which it resides evolves. Students in the future may have very different interests and needs than students today. They will benefit from the efforts of those that came before them, but so too will they be able to reconfigure the monitoring system – and hence the building also – to their contemporary interests.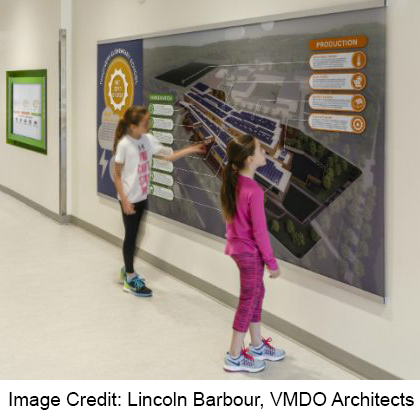 As fellows, students will learn about the Living Building itself, fundamentals of systems thinking as it applies to the Georgia Tech Living Building, and how to apply these principles by collaborating with professionals on and off campus to create a real interactive dashboard. Beginning in the Fall of 2018 the pilot project transitioned into a new Vertically Integrated Project (VIP) in which fellows can choose to continue to develop the living monitoring system while contributing a lasting legacy to Georgia Tech.
Read More About the Georgia Tech Living Building
The Living Building Comes to Life, One Petal at a Time
6 Pilot Projects Involve Students in Living Building