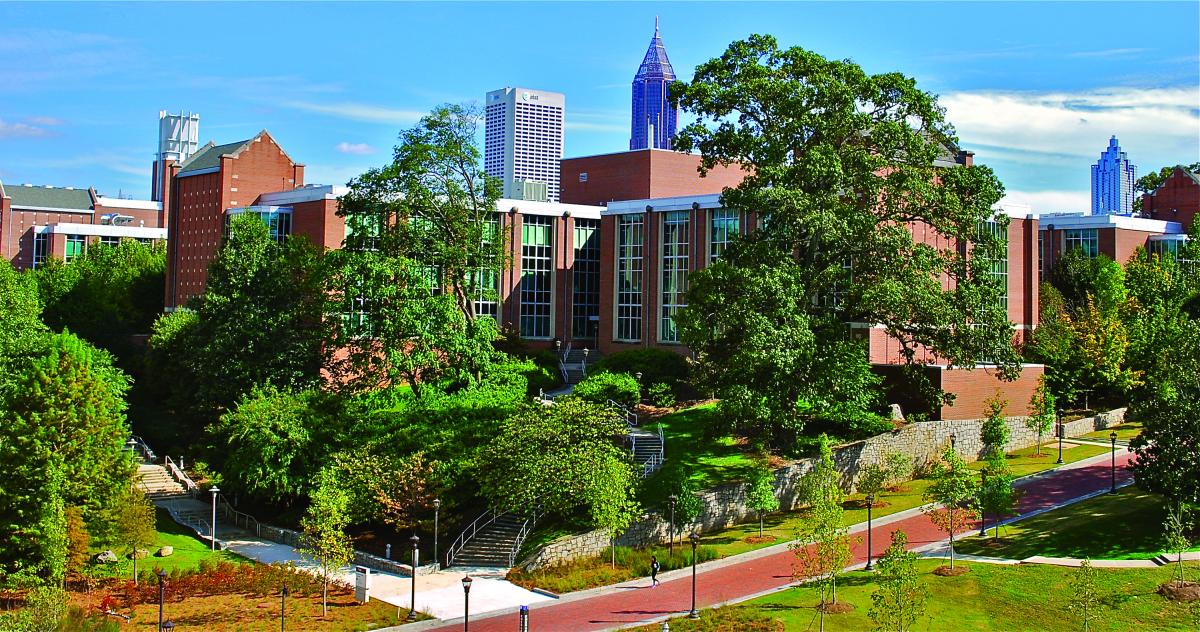 The Parker H. Petit Institute for Bioengineering and Bioscience opened its doors in 1995 and since that time it has served as a catalyst for innovative bioengineering and bioscience research. Located in the heart of Midtown Atlanta, the Petit Institute offers a bold variety of both traditional and cutting-edge medical research.
The Petit Institute has revolutionized the term "interdisciplinary research," and the institute has become an incubator for research teams to tackle complex medical research problems using an interdisciplinary approach. It has grown to include more than 200 faculty members from a wide variety of disciplines, which has played a vital role in the success of the institute and its culture. 
From its "research neighborhoods" to the open atrium and even the building's artwork, the Petit Institute was built from the ground up to foster an environment where innovative research emerges from the joint activities of bioengineering and bioscience faculty from more than eight different departments.
Mission
The Petit Institute's mission is to build a community within Georgia Tech and our partner institutions that catalyzes, cultivates, and deploys interdisciplinary research and education in bioengineering and the biosciences for economic and societal benefit.
The Petit Institute serves as the headquarters for the following centers:
Atlantic Pediatric Device Consortium
Center for Bio-Imaging Mass Spectrometry
Center for Cell Manufacturing Technologies (CMaT)
Center for Chemical Evolution (CCE)
Center for Drug Design Development and Delivery (CD4)
Center for ImmunoEngineering
Center for Innovative Cardiovasular Technologies (CICT)
Center for Integrative Genomics (CIG)
Center for Nanobiology of the Macromolecular Assembly Disorders (NanoMAD)
Center for Pediatric Innovation (CPI)
Center for Pharmaceutical Development (CPD)
Emergent Behavior of Integrated Cellular Systems (EBICS)
Georgia Center for Medical Robotics
Integrated Cancer Research Institute (ICRC)
Marcus Center for Therapeutic Cell Characterization and Manufacturing (MC3M)
Nanomedicine Center for Nucleoprotein Machines
Neural Engineering Center
Regenerative Engineering and Medicine Center (REM)
Specific diseases that are being impacted by the research conducted in the Petit Institute include heart disease, diabetes, cancer, infectious diseases, and neural injury, to name a few.
In addition, the Petit Institute not only works with the member institutions of the Georgia Research Alliance (Emory University, Georgia State University, the Medical College of Georgia, Clark-Atlanta University, and the University of Georgia) but also interacts with other institutions, such as Morehouse School of Medicine.